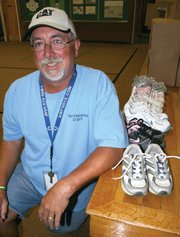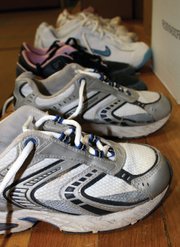 How to donate
To donate to East Elementary School's "Renew-A-Shoe" program, call physical education teacher Brett Sperl at 824-4505. Sperl said he accepts donations at his home, 867 Tucker St., or he can pick up the old and unwanted tennis shoes.
Brett Sperl, a longtime physical education teacher at East Elementary School, has a new twist for an old phrase.
"If the shoe fits, wear it — and (it's) yours," said Sperl, who has spent his 22-year education career at the elementary school at 600 Texas Ave.
Sperl's spin is an apt description of a program that began a few years ago by two elementary school students and one that's now closing in on a milestone.
The "Renew-A-Shoe" program entails the school and Sperl accepting — and often seeking — old, unwanted tennis shoes, giving the sneakers a light cleaning and new laces, and then donating them to students in need of new, old kicks.
Since it began, more than 90 students have received shoes, Sperl said. Most likely, the program will surpass 100 pairs of shoes given away in either August or September, he added.
The shoes are the students to keep, and not just for gym class.
"I think the philosophy is every kid should have a pair of tennis shoes," Sperl said.
"It gets rid of flip flops, cowboy boots, Crocs and those kinds of inappropriate footwear for physical education."
Seeds of the program were initially planted when two students at the time, sisters Leann and Jenae Showalter, brought about a dozen pairs of old shoes to the school.
"They said, 'Do you think you can find someone to use these?'" Sperl recalled.
The educator appreciated the gesture, and the sentiment. He grew up on a farm in South Dakota and was raised to put things to good use, he said.
The program has grown steadily since its inception, and now includes donations from other students, area residents and the Community Budget Center.
Sperl said he's also acquired shoes from numerous garage sales. Many people hosting the sales are generous, often giving him old shoes for free, he said.
Once he acquires the shoes, Sperl and his wife, Julie Sperl, a third-grade teacher at Sandrock Elementary School, give the shoes a once-over cleaning and new laces.
Today, it seems Sperl is always on the lookout for shoes — and laces.
Especially laces.
"You see those laces, man, and you've got to buy them in bulk," he said.
The program's guidelines for which students get shoes are loose, Sperl said. If he notices a student in need, and parents are OK with it, the student gets a pair. Simple as that, he said.
Students on the receiving end are always happy, and so is their teacher.
"The quality of shoes has improved over the years and I think the kids are really happy when they get a pair and it puts a smile on their face," Sperl said.
"I like it when they get them on. They (immediately) take off across the gym … in a little test run. … In the end, it's just something that makes you feel good."
Sperl, 51, has been teaching at East Elementary since 1988. He has been the physical education teacher since 2000.
Although he is nearing the end of his teaching career — he has two school years ahead of him before retiring — Sperl is hopeful the program — which doesn't require much time, effort or money — will continue after he's gone.
"It's a no-brainer," he said. "And it's a winner."
Heading into the new school year, Sperl has a collection of shoes in stock in the gymnasium's equipment room. Two boxes containing 20 to 30 pairs, what he calls his "treasure trove of shoes," are ready for students who need them this year.
But, he could always use more.
Sperl is accepting donations. There's a relaxed description of shoes that will be accepted.
"In other words, if you think a kid will wear them, bring them by," he said.