Document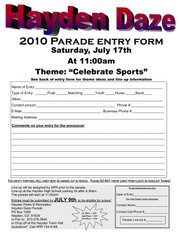 Still time to sign up
Still time to sign up
Hayden has extended the deadline to register for the parade and golf tournament. Visit the Town of Hayden website to download an entry form. Those interested in participating also can pick up entry forms at Hayden Town Hall, 178 W. Jefferson Ave. The forms can be faxed, by using the fax number on the form, or dropped off at Town Hall. For more information, call Parks and Recreation Director Kathy Hockett at 734-4168.
Hayden — Hayden Parks and Recreation Director Kathy Hockett said there's a misconception that the town's annual Hayden Daze celebration is only for residents.
"It's for anyone in the valley, or anyone, for that matter, to come and see what Hayden's about and enjoy our small-town atmosphere," she said. "… It's a great time and event to draw people this way. We have a lot to offer here, and I think sometimes people don't see past (U.S.) Highway 40."
Hayden Daze, which Hockett said has evolved to combine past events Colorado Days and Summerfest, begins Friday evening on Third Street between Washington Avenue and Jackson Road in front of Hayden Town Park.
Hayden American Legion Post 89 will sell hamburgers starting at 6 p.m., and between 8 p.m. and midnight, Cabin Fever will perform for the Street Dance. The Parks and Recreation Depart­ment will sell alcoholic and nonalcoholic drinks during the dance.
Hockett said Third Street would be closed from about 6 p.m. Friday to 1 a.m. Saturday for the Street Dance.
Saturday's festivities will kick off with the 11 a.m. parade on Jefferson Avenue, which runs from Third Street east to Pine Street. Longtime residents Donna Hellyer and Wes Signs have been named grand marshals.
"This is the first time we've had grand marshals for the Hayden Daze parade," Hockett said. "Both have just been very active with volunteering in the community."
Hockett said Jefferson Avenue would be closed from about 10:30 a.m. to noon or 12:30 p.m. Saturday for the parade. She said westbound traffic would be diverted onto Lincoln Avenue from Aspen Street and eastbound traffic from Fifth Street.
Hockett said parade participants should park at Hayden High School or Hayden Valley Elementary School.
A barbecue from noon to 2 p.m. at Hayden Town Park will follow the parade. The cost is $10 for adults and $5 for children. From noon to 4 p.m. at Hayden Town Park, the Yampa Valley Boys will perform while inflatable games and other activities will be available. They include an inflatable race track, Dance Dance Revolution, a rock climbing wall, water games and face painting.
Saturday's activities will conclude with a 6 p.m. Community Potluck Dinner at the Routt County Fairgrounds Exhibit Hall. Barbecue enthusiasts are encouraged to bring their favorite prepared meats to compete in the "Just Grill It" contest. Others just need to bring a side dish or dessert. There is no cost.
The Hayden Daze Golf Tour­na­­ment will start at 8 a.m. Sunday. The cost is $30 per person or $120 for a team of four.
With the exception of the Saturday afternoon barbecue and Sunday golf tournament, all other Hayden Daze activities are free.
Hockett said the town budgeted $11,000 this year to host the celebration.
"One of the main focuses of Hayden Daze is a way to give back to its residents and provide a weekend of events," she said.
But, Hockett said, everyone is invited.
Schedule of events*
Friday
6 p.m. American Legion Post 89 Burger Stand
8 p.m. to midnight Street Dance with performance by Cabin Fever
Saturday
11 a.m. Parade on Jefferson Avenue from Third Street east to Pine Street
Noon to 2 p.m. Barbecue at Hayden Town Park, $10 for adults and $5 for children
Noon to 4 p.m. Inflatable fun and live music from the Yampa Valley Boys at Hayden Town Park
6 p.m. Community Potluck Dinner at the Routt County Fairgrounds Exhibit Hall, including the "Just Grill It" contest; bring a side dish or dessert to share
Sunday
8 a.m. Hayden Daze Golf Tournament at the Yampa Valley Golf Course in Craig, $30 per person or $120 for a team of four
*All events are free except the afternoon barbecue and golf tournament