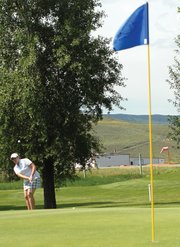 Results from the Silver Bullet tournament at Yampa Valley Golf Course:
Championship flight
Top gross:
Kim Eaton — 146

Stacy Arnold — 146

Jesse Bennett — 158
Top net (gross score/net score):
Deb Benak — 165/145

Jackie Skelton — 166/146
T3. Amber Nicholson — 160/148
T3. Jill Kirkpatrick — 166/148
T3. Tami Holt — 160/148
First flight
Top gross:
Amanda Keel — 163
T2. Allison Webb — 164
T2. Pat Kuntz — 164
Jeanne Kruger — 172
T5. Jenny Elliott — 174
T5. Nondis Lowther — 174
Top net (gross score/net score):
Susan Utzinger — 168/134

Juna Orr — 167/135

Jeannie Hay — 168/138

Karen MacDougal — 173/141

Kathy Short — 174/142
Second flight
Top gross:
Lani Cleverly — 174

Penny Sykes — 176

Lindsay Giessinger — 181

Cindy Reynolds — 183

Jackie Heuer — 186
Top net (gross score/net score):
Lisa McCurdy — 181/137

Michelle Marquardt — 180/138
T3. Denise Turner — 191/145
T3. Jamie Eckroth — 189/145
Christy Rolando — 189/147
Third flight
Top gross:
Linda Silva — 187

Wanda Wilson — 189
T3. Ann Irvin — 191
T3. Cindy Gilbert — 191
Nancy Grier — 200
Top net (gross score/net score):
Dixie Ficklin — 188/136

Jeana Pittman — 197/139

Cindy Lonis — 196/142
T4. Joan Mortensen — 202/144
T4. Laurel Bagan — 196/144
Fourth flight
Top gross:
Candy Hammerich — 185

Lynda Hagman — 200

Phyllis Finlay — 203
Top net (gross score/net score):
Mary Kay Chesley — 192/132

Marisa Mortensen — 218/136

Nancy Stevens — 205/139
Craig resident Susan Utzinger limited mistakes, played consistent and finished with what she considers one of her better golf performances over the weekend in the 24th Annual Silver Bullet tournament.
"I played the best I ever have during a two-day tournament here in Craig," she said. "This was my 10th time playing in the Silver Bullet and it was my best performance."
The Silver Bullet, which was played Saturday and Sunday, featured more than 90 players in the all-female tournament at Yampa Valley Golf Course.
Golfers were divided into four flights and a championship flight based on handicaps.
Utzinger was part of the first flight, and shot a 168 gross score and 134 net to win.
"I have been playing (golf) for 26 years," Utzinger said. "It was really a great tournament for me."
Although a lack of penalty strokes helped Utzinger, Lani Cleverly, of Craig, had to battle back after landing in two water hazards.
"I was pretty nervous going into the first day," she said. "I hit both water hazards and had to play my way back to have a good finish in the tournament."
After playing consistent golf the rest of the first day, Cleverly finished with an 89, which she said is around her average.
Sunday is when things turned around, she said.
"I really didn't have that many problems on the second day," Cleverly said. "I felt my normal game coming back and I had some things go my way."
With a par on hole 16 in the bag, Cleverly shot a bogey on 17 and a par on 18 to finish with an 85 and the top gross score, 174, in the second flight.
"I think my second-day score was great for a beginner golfer," she said. "I have never done an individual tournament before, but I had a lot of fun."