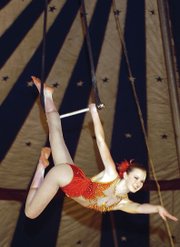 If you go
What: Culpepper & Merriweather Circus
When: 5 p.m. and 7:30 p.m. Aug. 2
Where: Moffat County Fairgrounds
• Advance tickets can be purchased through the Craig Chamber of Commerce, 360 E. Victory Way. For more information on the circus and the Craig Lions Club, visit www.cmcircus.com or contact Al Shepherd at 824-3095.
The Culpepper & Merri-weather Circus will be in Craig next month to offer families a night of fun under the big top.
The Craig Lions Club is bringing the circus to town, with performances at 5 p.m. and 7:30 p.m. Aug. 2 at the Moffat County Fairgrounds.
"It's been several years since the Craig Lions Club has been able to bring a circus to Craig," Lions Club member Christina Currie said in a news release. "We're thrilled to be able to host one this year, particularly one of Culpepper & Merriweather status."
Recognized on an international level, the Culpepper & Merri-weather Circus has been featured in the spotlight of many news outlets, including "National Geographic Explorer," "Entertainment Tonight" and the Nickelodeon special "On the Road with Circus Kids."
Besides giving residents an evening of thrills, the circus — celebrating its 25th year — will send one of its performers to town early. One of the institution's clowns, Skeeter, will visit children in the area July 22, discussing her life with the circus, a life she began at the age of 9 in Columbus, Ohio.
Additionally, Culpepper & Merriweather will offer a show before the show, allowing passersby to observe the tent setup from 9:30 to 10 a.m., complete with a free tour where the crowd can meet performers face-to-face and learn about the care of circus animals.
"Culpepper & Merriweather really involves the community in all aspects of what they do," Currie said in the release. "That's one of the reasons we're so excited to have them. They're so transparent in all they do and make it such a fun opportunity for the community and particularly the kids."
The midway and box office will open at 4 p.m. Aug. 2, but organizers advise residents to purchase tickets ahead of time at the Craig Chamber of Commerce, where they are now available for $9 for adults and $6 for children ages 2 to 12, with children younger than 2 free. Prices on the day of the show will jump to $12 for adults and $7 for children.
The Lions Club will use the funds raised by the circus for numerous philanthropic programs, including children's vision screenings, purchasing eye-
glasses and eye exams for the underprivileged, funding the Lion Eye Bank, and other such endeavors around Craig and the state.
"This is a win-win for the Lions Club," Currie said in the release. "Not only are we able to raise funds to continue our programs, but the community gets to enjoy a great show at the same time."