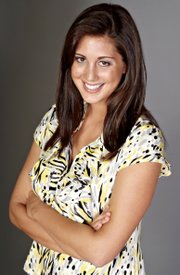 Most college students fear the day they graduate because they fear the ambiguity of the next stage.
Will they backpack through Europe for the summer? Will they move back home and spend time with their family and save up money? Will they follow their dreams to move to the city and pursue their singing career?
Or, will they begin their schedule of nine to five and settle for a more routine lifestyle?
From kindergarten up until senior year of college, the following fall brings another school year. The next school year brings various tests, quizzes and textbooks.
After my last final, I threw my notebooks in the trash and sold every textbook I ever owned. Now, I wish I had saved that media studies paper I got an A on, or the notes in the novel I read for English, because it is the A + grades, the less than satisfactory grades and the ones in between throughout my 16 years in school that served as the best lesson plans for life thus far.
We spend a quarter of our lives in school and when it is done, you realize how much you actually learned beyond the assignments and grades.
For the first time, after college graduation, the next step is unclear and the choice is yours. After college, everyone moves at their own speed. And the connections that were so easy to make are much harder to maintain.
For me, the hardest part of leaving college was leaving behind the group of friends I made. College, for me, provided ample opportunities to become close with people. It is the down time, the late-night study sessions, the semesters abroad and life's tragedies when you're a thousand miles away from home that make your friends your family.
It is not the college lifestyle that I miss per se, it is the down time that allows you to share your secrets, your fears, your funny stories, even your toothbrush, with people from various cities and lifestyles.

And while you can still relive your glory days for a weekend, after college your best friends are all moving at different paces.
Now, instead of waking up next to my best friends, it is coffee dates, wedding receptions, dinner parties and baby showers. It is all about the planned events instead of the unplanned spontaneous moments.
This holiday weekend served as a great opportunity to celebrate, as I met up with several of my college friends.
The Fourth of July just might be my favorite holiday because it includes everybody of all ages and all paces.
Children were playing in the water fountains and enjoying candy from the parade while parents flipped burgers on the barbecue.
And, it seemed like everyone got a taste of his or her glory days this weekend. One woman in particular frolicked throughout the cobbled stone streets with a sparkler in one hand and "pop its" in the other and said, "I haven't felt like this since college."
Maybe the fireworks were most appropriate for someone half of her age, but she helped me realize that the key to adjusting to the post-graduation lifestyle is realizing that no matter what pace your life is going at, it is all about maintaining a mindset that keeps you slightly young.