Photo Gallery
Trapper mine part 4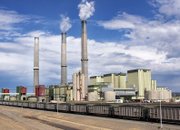 Photo Gallery
Explosion at Trapper Mine - July 3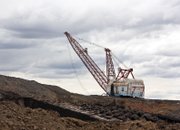 A blast goes off at Trapper Mine, clearing a layer of rock off the top of a coal seam May 14 at the mine's K pit.
Coal mining facts
• Trapper Mining Co.
— Produced 2.1 million tons of coal in 2009.
— Employs about 150 residents.
— Began coal production in 1977.
— Eighth-leading taxpayer in Moffat County.
• Colowyo Coal Co.
— Produced 3.4 million tons of coal in 2009.
— Employs about 280 residents.
— Began producing coal in 1977.
— Third-leading taxpayer in Moffat County.
• Twentymile Coal Co.
— Produced 7.8 million tons of coal in 2009.
— Employs about 550 residents.
— Began producing coal in 1983.
— Leading taxpayer in Routt County.
• Three mines produced about 47 percent of Colorado's coal in 2009.
• Trapper and Colowyo provided 8.5 percent of taxes collected by Moffat County in 2009.
• Twentymile provided 5.3 percent of taxes collected by Routt County in 2009.
• Tri-State Generation & Transmission's Craig Station
— 1,304 megawatt coal-fired power plant
— Employs 300 residents
— Construction began in 1970s.
— Provides 26 percent of all taxes collected in Moffat County.
• Average salary of Colorado coal miner is $100,000 with benefits.
• Colorado production
— Produced 28.5 million tons in 2009.
— Eighth in coal reserves in nation.
— Ninth in coal production in nation.
— Coal reserves estimated at 17 billion tons.
Statistics provided by Colorado Mining Association, Colorado Division of Reclamation, Mining and Safety, Moffat County Assessor's Office and Routt County Assessor's Office.
Editor's note: This is the fourth part of a four-part series on the area's coal mining industry. The first three parts can be viewed at www.craigdailypress.com.
Travis Sondrol, 31, maintenance manager for Colowyo Coal Co., is tasked with overseeing maintenance on the mine's numerous pieces of equipment.
From haul trucks to drills, draglines and shovels, Sondrol and his staff of 67 mechanics keep the mine running so that it can operate 24 hours a day throughout most of the year.
"The whole shooting match is under us," he said.
Sondrol, who is approaching his ninth year with the mine, said the best part of his job is learning to troubleshoot around any problems that may arise.
"There is nothing better than fixing a machine that's down in the middle of the night that costs $50,000 an hour to be down," he said. "There are a lot of things that are in play when something is down, and not everybody can do that."
Despite being on the other side of coal mining operations such as drilling, blasting or equipment, Sondrol still considers himself to be a coal miner.
"I'm pretty proud of it, actually," he said. "It's been a really good way of life for me."
Coal is in Sondrol's blood. His father, Clyde, worked at as an equipment operator in North Dakota.
"To go through that and to see what it did for him, it was almost a no-brainer really," Sondrol said of deciding start as an electrician at Colowyo. "If I could get started somewhere in a mine and go, it was always the way to go, I thought."
But, Sondrol used one word to describe how he feels about his job, the future of Northwest Colorado and the longevity of coal as an energy source — "uncertainty."
Coal, he contends, is a clean, low-cost energy source that should be a staple of energy production in the future.
But, legislation, regulations and misconceptions about coal may place a squeeze on the industry in the future, Sondrol said.
"It ultimately has the potential to be detrimental to their families," he said of recent legislation. "It's their livelihood that's basically getting threatened."
Sondrol contends much of the pressure the coal industry has come under recently has been founded on misinformation and people being uneducated.
But, the future of coal doesn't lie in the coal seams, reserves or the hard working miners, but with coal-fired power plants and the legislation surrounding them, he said.
"There's more coal out there than can be burned in our lifetime," he said. "The coal isn't the problem — it's the ability of the plants to burn it."
Hoping for the best
Cody Bebensee, 23, a Colowyo maintenance warehouse yard technician said his job is one of the best he has ever had.
"It's the first job I've had that they actually rewarded me for working hard," said Bebensee, a 2005 Moffat County High School graduate.
Bebensee relies on his job to pay his mortgage, medical bills and put food on the table for his wife and two children.
Sometimes Bebensee worries about the stability and longevity of his employment as a miner, he said.
But, he hopes for the best.
"It's always on my mind if they all of a sudden decided to change it," Bebensee said. "But, I look toward a brighter future not a darker future."
He contends his job as a yard technician is one of the more secure at the mine, considering recent layoffs.
"With the way the economy is going and everything right now, it is one safe job," he said. "When they were doing the layoffs, we were hiring. I think we took someone out of the pit to replace one of our guys. We are still shorthanded."
Despite being uncertain about the future of his job, Sondrol said worrying about it doesn't do any good.
"You just can't let it bother you or it'll bring you down," he said. "It's just one of those things you can't control so it doesn't do any good to try. I can control that I go home safe … and make sure the other guys go home safely."
Sondrol said he sometimes overhears talk in the break rooms at the mine about recent legislation, layoffs and mine sale considerations.
"Their awareness has peaked when it comes to that, but they work safe," he said. "They get the job done right and they really do a good job of putting that aside and thinking about it at the proper times, but not when things are critical."
'A political game'
Forrest Luke, environmental manager for Trapper Mining Co., spends his days making sure the mine meets land reclamation standards and completing environmental permits, among other duties.
Luke oversees reclamation of land that has been mined including grading the land back to its original contour, reconstructing drainages and seeding the land with natural flowers and grasses.
The goal of reclamation, he said, is to make the post-mining land beneficial to the surrounding environment and wildlife.
The future of the coal industry, Luke contends, hangs on legislation, regulations from the Environmental Protection Agency for air and water quality standards, and renewable energy mandates from the state and federal levels.
"It's becoming more of a political game than really a scientific necessity in my opinion," he said.
"There are some things that are happening that are kind of scary that could really put the squeeze on the coal industry."
Luke said the current state and federal administration have "declared war on coal."
"At some point, they put you out of business," he said. "Hopefully, there is enough political will on the other side to prevent that from happening."
An economy without coal, especially in Northwest Colorado, would be "an economic disaster," Luke said.
"It's scary though because I don't think a lot of people realize that," he said. "I think they think we can just turn to renewable energy, get rid of oil, coal and other fossil fuels and be OK, but that is just not the case."
Targeting carbon
Paul Hendershott, an instrumentation and control technician for Tri-State Generation & Transmission's Craig Station, has worked at the plant for about four years.
Hendershott contends the coal mines and the power plant have a symbiotic relationship, and as such, the future of the coal industry is placed on the shoulders of the power plants.
"(The plant does) a great job on emissions control and all the pollution control," he said "They really clean up that gas before it gets released to the environment."
Despite reducing emissions such as nitrogen oxide and
sulfur dioxide, the plant does emit some amount of carbon dioxide, Hendershott said,
"Now, all of a sudden, carbon dioxide is the bad guy," Hendershott said. "Is it really? I think that is still questionable."
Hendershott thinks reducing carbon emissions as legislation warrants will be a significant factor in coal's future.
Luke contends area power plants have "come a long way" in cleaning up coal emissions.
"A lot of emissions of, say, sulfur dioxide and other emissions have decreased dramatically since the 1970s even though we have more than doubled the amount of coal burned," he said.
But Hendershott thinks coal will have a stake in the country's energy portfolio for years to come because of its abundant, inexpensive nature.
"We cannot shut down coal-fired power plants tomorrow," he said. "A lot of that is going to depend on the government and their regulations for carbon dioxide emissions and how strict they go with that."
Sondrol contends the future of energy may be renewable sources such as wind and solar, but coal production and burning needs to continue until that technology is ready.
"There needs to be some kind of bridge there and coal has got to be it," he said. "Sure, maybe someday they can shut off all the coal plants, but it isn't any time soon."
Luke contends pushing energy regulations faster than energy companies can develop the technology to match will have drastic consequences.
"I think eventually you'll see technologies out there that will allow emissions to be near zero," he said. "It won't be cheap and the technology isn't there yet, but the concern is regulators pushing it faster than it can occur can cause real economic destruction."
Looking ahead
The immediate future of the coal industry in Northwest Colorado, Bebensee said, is a "50-50 shot."
"It could be good, could be grim," he said.
But, Bebensee's gut feeling is that the industry will be sustainable.
"There is still a lot of coal to be mined," he said. "There is still a good need for it elsewhere in Colorado, too, so we don't have to focus on the plants in Colorado. I know there are plants in Utah and New Mexico, there are plants everywhere, and they all need something to burn."
Luke feels coal mines could be located in the area for at least another 20 to 30 years.
"Beyond that, it is kind of hard to predict unless some other form of energy comes along that we don't foresee at this point," he said. "I think coal is going to be around for a long time."
Sondrol said he can't "help but think that things will turn around for coal."
"I really think the whole world is sick in everything, whether it's the economy or you name it," he said. (Coal) has its' ups and its' downs, and I think it's low now, but things are looking up and we'll be strong again in the next couple years."
Hendershott feels further research into clean coal practices will be key to keeping coal production alive as an energy source.
"I think we have the research technology to remedy whatever problems we face," he said "And there are still tons of coal and they are still discovering more in places.
"It's a very good fuel and I believe our technology will come along to be able to clean that up. I don't know if we can make all the environmentalists happy, but coal will not go away."