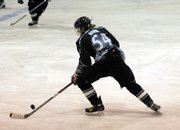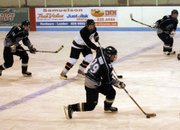 Box score
Sunday's Moffat County Bulldog hockey game vs. Gunnison (shots on goal in parentheses):
Team First period 2nd 3rd Final
Moffat County 1 (7) 1 (11) 1 (7) 3 (25)
Gunnison 0 (13) 2 (8) 0 (2) 2 (23)
Based on the results, Moffat County's Jarret Walt might want to stay at center.
Playing in his first full game at the new position, Walt scored a goal in the Bulldogs' 3-2 victory against visiting Gunnison on Sunday.
For Walt, the move from defense gave him more opportunities to score, and in a game against league rival Gunnison, he said he wanted to capitalize.
"We really wanted it today," he said. "We kept our heads and handed them their first loss. That's always a good feeling to send them home with."
The Bulldogs were coming off a 3-1 Saturday night loss to Gunnison at the Moffat County Ice Arena.
Coach Walker Criswell said the Saturday game was closer than the score indicated.
"Yesterday was the same game," he said. "It was really close, the kids played hard, but a couple lucky bounces made the difference."
Moving Walt from defense was one of many changes coach Jerry Strahan has made to shake up the roster.
"We broke up our No. 1 line for the last four games," he said. "We made them play with some of the lower level players. The idea was to bring those players up to their level. They were not happy campers, but the other lines are playing better now."
Criswell said the change has come from the younger players sharing the same lines with seniors.
"And the expectation is higher," he said. "If you're out there playing with the best kids, you have to step it up."
Moffat County was again bolstered by goalie Curt Ellgen, who stopped 21 of 23 shots.
"I feel like I played really well," he said. "I was really hoping we would step it up. I knew we could beat the team, but we really needed to play our game."
That game included a reinvigorated defense, Ellgen said.
"I think we played a lot better today on defense," he said. "We stepped it up. They were able to hold them off."
The Bulldogs knew what the Blades were going to do on offense, giving the defense an edge, assistant captain Jacob Baron said.
"We kept our heads up and kept intercepting their passes," he said. "They would do the cross ways pass and blindside us and score yesterday. Today, we took care of it."
Moffat County struck first, when Baron connected to the left of the Gunnison goal with 5:36 left in the first period.
"I didn't even know I scored it," he said. "I swatted at the net, and with my luck, it happened to go in.
"That put us up, 1-0, and got the team fired up," he said. "Gunnison tied it back up, and we kept alternating goals."
Gunnison's first goal came with 10:18 left in the second period to tie the score.
Moffat County didn't have to wait long to get back on top, as Walt scored on a power play with 7:53 left in the second period.
"It looked like they were going to pass it the other way, so I stayed where I was, so my partner would have it," he said. "But they passed it to my side, I tipped it by a guy and had a clear shot."
But Moffat County's lead wouldn't last long, as the Blades were able to connect off a rebound with 3:56 left in the second period to tie the game at two.
Ellgen stifled the Blades after that, and Moffat County's assistant captain Cole DuBois broke up the tie with a backhanded goal with 4:15 left in the game.
With less than a minute remaining, Gunnison pulled their goalie and were threatening to tie the game.
"I was just trying to be as solid as I could," Ellgen said. "I was trying to make the right moves, do the best I could and not let anything go in."
With Telluride coming Saturday to Moffat County, Baron said the Bulldogs can keep improving.
"We still could have played harder," he said. "We have to keep the motivation up. Keep hitting harder, keep the adrenaline going, keep those kids pumped."