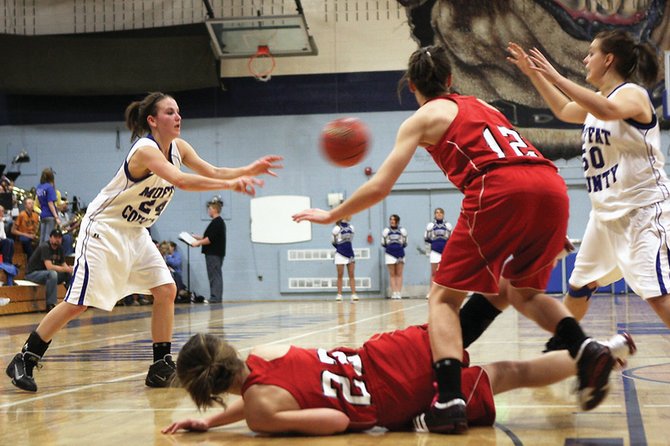 MCHS girls basketball ousts Glenwood Springs, 51-36
Updated January 22, 2010 at 11:30 p.m.
Box score
Moffat County High School girls varsity basketball vs. Glenwood Springs
Team First quarter 2nd 3rd 4th Final
Moffat County 9 12 20 10 51
Glenwood Springs 10 7 12 7 36
Moffat County High School girls varsity basketball — 2009-2010
Record: 10-13, 8-5 WSL
Dec. 4 Moffat County 36, Orem 31
Dec. 5 Moffat County 26, North Sanpete 35
Dec. 5 Moffat County 25, Evanston 52
Dec. 10 Moffat County 27, Grandview 63
Dec. 11 Moffat County 34, Washington 43
Dec. 19 Moffat County 49, Montezuma-Cortez 54
Jan. 15 Moffat County 28, Palisade 39
Jan. 16 Moffat County 53, Delta 49
Jan. 30 Moffat County 45, Rifle 56
Feb. 5 Moffat County 55, Delta 24
Feb. 12 Moffat County at Glenwood Springs
Feb. 13 Moffat County 41, Rifle 64
Sometimes a loss can be a positive thing.
Since falling Jan. 15 to Palisade High School, the Moffat County High School girls varsity basketball team is 2-0, including Friday night's 51-36 win against Glenwood Springs High School at MCHS.
The win against the Demons, coupled with the Jan. 16 victory against Delta, has the Bulldogs at 4-1 in the Western Slope League.
"I think the Palisade game was an eye opener," MCHS coach Craig Mortensen said. "I think they were pretty embarrassed. The coaches were embarrassed."
At home, the Bulldogs would not be embarrassed, however.
The Bulldogs trailed, 10-9, after the first quarter, but never trailed again.
At halftime, their lead was 21-17, and after the third quarter, the Bulldogs had broken it open, 41-29.
Amanda Snyder had a successful game from the three-point line, scoring nine points on three 3-pointers.
"We executed," Mortensen said. "We shot enough outside to open up the ball inside. All the kids on the floor did a good job of executing."
Aiding in the second-shot opportunities were Lauren Roberts, who led the Bulldogs with 14 points, Lindsey Yoast, with eight points, and Annie Sadvar with four points.
"The post did a good job tonight," Mortensen said. "I think everyone did a good job tonight."
The guard play also was exceptional, Mortensen said, as Melissa Camilletti, Snyder, Nike Cleverly and Maddy Jourgensen all chipped in.
"Everyone contributed," he said. "Maddy had a nice shot, Britteny (Ivers) did a good job every time she was in, and Jess (Moser) had a good game."
Moser scored seven points, while Ivers and Jourgensen each had two points and several rebounds.
Moffat County's guards continue to improve, Mortensen said.
"We took care of the ball," he said. "Melissa is doing a good job, Jess did a nice job, Amanda hit some shots, and all three of our post players — Annie, Lindsey and Lauren — dominated inside."
The win placed Moffat County at 4-1 in Western Slope League play, which gives them possession of second place in league play.
Glenwood Springs (7-6 overall, 3-2 in WSL play) will host Steamboat Springs today.
But for Moffat County, the victory continues the team's mo­­dest two-game winning streak.
"We've really worked on things we needed to improve, and simplified our game a little bit," Mortensen said. "It really paid off tonight."