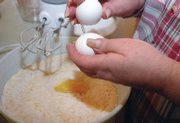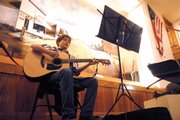 Get involved
For more information on being a contestant in the upcoming fourth annual Taste of Chocolate, call Nadine Daszkiewicz at 824-8148.
For more information on being part of the 15th Annual Art Walk, call Kandee Dilldine at 824-2151.
Ribbons of steam rose from the cooking pan, which once belonged to Joanne Roberson's grandmother, as she slid her creation out of the oven.
"It's like aromatherapy," Roberson said as she lowered her nose to the chocolate chip zucchini cake she whipped up in her Craig home Monday afternoon.
From the time she was a little girl until now, Roberson, grandmother of eight, has always baked.
On Feb. 13, for the fourth year in a row, she will compete in the fourth annual Taste of Chocolate competition during the 15th Annual Art Walk, which is a chance for local bakers and chocolatiers to show off their tastiest recipes.
From the moment the competition ended last year, Roberson began to plan her recipe for the next event, and she thinks she has come up with something that will be a hit.
"I like to bake, and I like to try out new recipes," she said. "It seems like a lot of times when people are having a bad day or whatever else, if someone bakes something for you it's like a lifter-upper."
In the competition, each baker makes 100 portions of their chocolate concoction and sets up a tasting area in one of the downtown businesses.
Only 100 tickets will be sold so that each person has a chance to taste all the creations and vote on their favorites.
Tickets are $10 and will be available starting Feb. 1 at various downtown businesses.
The event is still open for competitors to sign up.
Event organizer Nadine Das­zkiewicz said she always had the idea to have a "chocolate-y" event during Art Walk because of its proximity to Valentine's Day.
Four years ago, one of her customers brought up the idea of a chocolate competition after seeing one in another city.
"We've had cakes, brownies — we've had all different kinds of chocolate," she said.
"We've had zucchini bread, angel food cake, homemade mini Oreos, fudge and just anything you can imagine. The winning things are usually truffles of some kind."
Daszkiewicz said it's a good opportunity to get out and interact with the community during the long winter.
"You have to be there to hand your stuff out, so you get to talk to all the people that come around for the Art Walk," she said. "Plus, the winner gets $100, so that's a good incentive."
Some take the competition seriously, but Roberson, who said she bakes at least every other day, said it's all in good fun.
"You get to see a lot of people you haven't seen in a while," she said. "It's a fun way to break up the winter. It's always neat to see what people come up with."
She said the key to a good recipe for the competition has to start with high-quality chocolate, for which she has traveled as far as Grand Junction to find.
"You start with top-grade chocolate," she said. "It has to be the main thing. Lots of times, the simpler the combinations, the better the taste. When people go through so much to make something extravagant, it takes away from the fun of doing it."
She said she'll try out several recipes throughout the year, and test them out on her friends at her hair salon.
"I don't care if I win," she said. "It's just fun. If you win, you don't have as much reason to step it up for next year."
Nicole Inglis can be reached at 875-1793, or ninglis@craigdailypress.com.