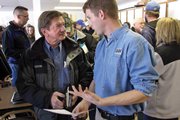 Final bid candidates
Colorado Northwestern Community College chose seven general contractors to be a part of the final bid process for its new campus project:
• Adolfson & Peterson Construction
Aurora, 303-363-7101
• FCI Constructors
Grand Junction, 970-434-9093
• GE Johnson Construction Co.
Colorado Springs, 719-473-5321
• Haselden Construction
Centennial, 303-751-1478
• PCL Construction Services
Edwards, 970-926-2135
• Shaw Construction
Grand Junction, 970-242-9236
• Weitz
Denver, 303-860-6600
— The sealed bids from these general contractors will be opened Feb. 12. The lowest bid will receive contracts three separate CNCC projects on the new campus.
It was a sign of the times, Gene Bilodeau said, as more than 50 local and statewide business owners milled around one of the classrooms at Colorado Northwestern Community College.
Most of the attendees at the informational meeting Tuesday were looking for work in a slow construction market, and CNCC wanted to make sure local businesses had every opportunity to get involved with its upcoming project.
"We want to make a concerted effort to make as many local vendors as possible know what's going on," Bilodeau, CNCC vice president of administration, said.
On April 1, 2010, a general contracting company will begin construction on an academic building and a career/technical building on Moffat County Road 7 west of Craig.
This will be the first stage of an expansive new campus on the west side of town.
Although CNCC cannot tell the contractor whom they can hire, the college has made a special effort to encourage the contractors to use local businesses and workers wherever possible.
"I think that our local subcontractors can definitely offer the same quality work as anyone else," CNCC president John Boyd said. "And I think the locals can offer great prices."
From lumber providers and electricians to interior designers and office suppliers, almost every aspect of building construction was represented Tues­day.
"We're all small fish trying to get a piece," said David Griffith, APH Construction president, who had been making his way around the room and handing out business cards.
Griffith said his Craig-based business had the opportunity to work on some larger projects, including the new Yampa Valley Bank, however, business has been slower than usual in past months.
"This is the biggest project going on this summer, and it would be nice to be a part of it," he said. "We've been in business 30 years, and we want to continue."
If recent construction projects in Craig were any indication, however, he said he was skeptical that many of the local businesses at Tuesday's meeting would get the chance to be a part of the project.
"Everyone's so slow everywhere," Griffith said. "I appreciate what they're doing here, but I don't think there is enough work everywhere else, and the contractor might just bring in their own guys."
Still, he said CNCC and the Craig Moffat Economic Development Partnership have made a significant effort and that Tuesday's meeting was the first time he had ever been invited to meet potential general contractors.

The college chose seven general contractors to participate in the bid process.
Their sealed bids will become public Feb. 12, and the project will be awarded to the lowest bidder.
Chad Wilson, a project engineer with G.E. Johnson Construction Co., one of the potential general contractors, said it was clear from the meeting that using local businesses was a high priority for the school and the community of Craig.
Still, he said, it will all come down to the lowest bid.
"It's going to be really competitive," he said. "The tough thing is, local or not, you have to take the low number. It gets competitive in a market like this."
Matt Underwood, a project manager with Weitz, another potential general contractor, said, he understood the importance of keeping the project as local as possible because he comes from a small town, as well.
"We do very little in house work," he said as he shook hands and traded business cards with local and regional workers. "We use a lot of subcontractors, so it's important to see their faces. It's important for us to get the right people working underneath us."
Maury Schuessler, of Asso­ciated Painters, attended a meeting earlier in the day, in which the EDP set up personal meetings between local businesses and one of the general contractors.
The EDP sent out letters to each of the seven chosen contractors to see if they would be interested in setting up meetings with ocal businesses.
PCL Construction Services was the only contractor that participated, while most of the other contractors had representatives at the CNCC meeting later in the day.
"I'm just trying to take a shot at getting some work," Schuessler said. "It would definitely create jobs, and it's going to mean more money for the community. A lot of people don't understand, if the contractors bring in their own people, that money doesn't stay here for long at all."
But the construction project itself wouldn't be the only benefit to the community, Schuessler said.
Once constructed, the campus could be an opportunity for growth in the community.
"Hopefully, we can get a bunch of young people to come and live in the dorms here," he said.
At CNCC's meeting, Boyd stood in front of the crowd of eager workers, expressing his desire to support local businesses and build a campus that will continue to give back to the community.
"We're excited about this project," Boyd said. "We think it will be a great resource for the community, and it's been a long time coming. We'd love to see a lot of local work done on this project."
Nicole Inglis can be reached at 875-1793, or ninglis@craigdailypress.com.