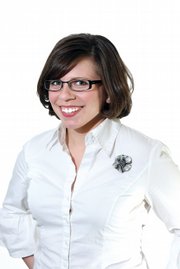 Weekend movie show times
29 E. Victory Way
824-2000
"Dear John" — Rated PG; 7 p.m. and 9:05 p.m. Friday and Saturday, 4 p.m. and 7 p.m. Sunday
"Valentine's Day" — Rated PG-13; 7 p.m. and 9:05 p.m. Friday and Saturday, 4 p.m. and 7 p.m. Sunday
Tickets: $7 for ages 10 and older, $5 for ages 9 and younger
Sunday matinee: $5 for ages 10 and older, $4 for ages 9 and younger
Submit your event
Want to see your event featured in my "Livin' It Up" column? Submit the details for consideration by emailing me at mballeck@craigdai... or calling 875-1790.
There's free food, cheap drinks and political mingling this weekend, if you're in the right place at the right time.
Read on to find out how to get your share of some.
■ Best Western Deer Park Inn & Suites celebrates its anniversary this year with a community party to show off recent renovations.
Head out to the hotel, 262 Commerce St., from 11 a.m. to 2 p.m. Saturday for hamburgers, hot dogs, chips, drinks and cake, as well as tours of the property.
Call 824-9282 if you have questions.
■ Listen up, ladies. On Thursday nights, the Sports Page Bar in the Holiday Inn of Craig, 300 S. Colo. Highway 13, offers $1 domestic drafts, well drinks and house wine for women from 8 to 9 p.m.
After that, drinks are half price.
Not a bad deal.
On Friday, the Sports Page hosts its Month-End Blow-Out Party from 5 to 8 p.m. There'll be a complimentary taco bar and specials on margaritas and other drinks.
Also, country artist Erik Johnson plays at the Sports Page on Friday and Saturday nights.
On Sunday night, check out the Sports Pages' Salsa Night, where you can showcase your dance moves.
■ Organizers say this year's Moffat County Republican Lincoln Day Dinner could hold some surprises for attendees, as residents use the platform to announce their candidacies for the many positions open locally.
Lt. Gov. Jane Norton, who is running for Colorado's U.S. Senate seat, will be the keynote speaker.
The dinner takes place at the Holiday Inn of Craig, 300 S. Colo. Highway 13, on Saturday evening. Cocktails begin at 5:30 p.m., and dinner is at 6:30 p.m.
Tickets are $50 each and can be purchased at T&H Parts or Pam Designs. RSVP or purchase tickets by Feb. 19. Call Corrie Ponikvar at 824-6222 for more information.
■ The Colorado Division of Wildlife hosts an ice fishing event for children from 1 to 4 p.m. Saturday at Little Rascals Pond, 800 W. First St.
If you're 16 and older, you've got to have a license. Take your own gear or use the supplies offered by the DOW. There'll be hot chocolate to help warm up the kiddos, but be sure to dress warm.
Call 878-6090 for more details about the event
■ The Kids Outside Nature Club will gather this week for a Full Moon Party at the Cedar Mountain trailhead. The club will hike up the mountain to watch the moonrise. To join the fun, show up at 5:30 p.m. Sunday.
For more information, call Robyn Morris at 824-1703 or visit www.kidsoutside.wordpress.com.
■ The Winter Olympics wrap up Sunday, but there's still an opportunity to catch some of the action.
With several medals still up for grabs, be sure to take in some of the excitement before it's gone for four more years.
■ West Theatre will be showing "Dear John," which is based on a novel by Nicholas Sparks, and "Valentine's Day," on for the third week in a row.