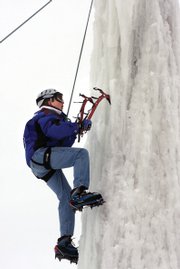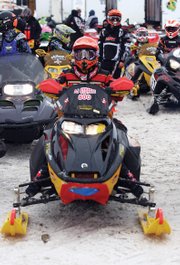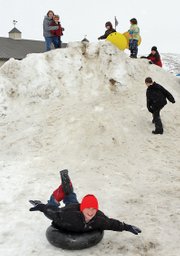 What's a yacht without a "tanning babe" lying on its deck?
That's what 12-year-old Benjamin Robinson wanted to know as he stood next to his cardboard box derby entry Saturday at the Wyman Museum's Winter Festival.
His cardboard yacht, dubbed the S.S. Babe Magnet, featured a tan Barbie Doll sunning herself on the deck.
But there weren't many rays to catch at the annual cardboard box race, which featured decorated boxes sliding down a small hill next to the Wyman Museum.
Snowflakes had just begun to fall as Benjamin accepted his two trophies: one for fastest box and one for people's choice.
Wyman Museum events coordinator Nicky Boulger handed him the trophies and an envelope with $80 in it.
Boulger said the Winter Festival, which took place Saturday and Sunday and featured vendors, ice climbing and snowmobile events, was the most successful she had seen.
"Look at all the people," Boulger said about the hundreds that turned out to watch the races and visit local vendors. "The weather cooperated for the most part, and I don't see anyone walking around without a smile on.
"The atmosphere is great."
Between the hot toddy bar, vintage snowmobile show and X-Treme Mountain Snow-X race, Boulger said her favorite event of the weekend was the cardboard box derby.
"Just look at all the creativity the kids put into it," she said.
The field of cardboard boxes featured an entry of a large box painted to look like the Mystery Machine from Scooby Doo.
Twelve-year-old Clayton Moon had waxed the bottom of his box, which was made to look like a bulldozer. There was also an elaborate Viking ship box.
But there was no match for the S.S. Babe Magnet, which carried a grinning Benjamin across the finish line as other boxes tipped over and threw their drivers across the snow during the race.
"It's because I knew I was winning," he said about his smile. "It's all aerodynamics. Mine was just more aerodynamic."
He said he'll spend his $80 winnings on video games.
Although many had spent weeks building and painting the perfect box, Benjamin had decided only the previous day he wanted to enter.
His mother, Cameron Rob­inson, didn't know until the morning of the race that her son had entered because he had done all of the work at his grandmother's house.
"I just encouraged him," said Joyce Balleck, Benjamin's grandmother. "I figured it was better than sitting around. He worked really hard on it, and I'm so proud of him. I think it's awesome."
Cameron watched her son's race with amusement at her first ever Winter Festival.
She and her fiance also attended the Valentine's Day dinner and sleigh rides Saturday evening.

"I've lived here all my life and I've never been" to Winter Festival, she said. "It's neat for Craig. You don't see stuff like this very often, with kids and adults all out having fun."