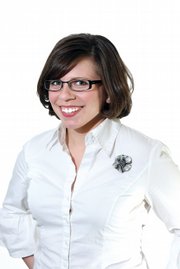 Weekend movie show times
29 E. Victory Way
824-2000
"Percy Jackson & The Olympians: The Lightning Thief" — Rated PG; 7 p.m. and 9:05 p.m. Friday and Saturday, 4 p.m. and 7 p.m. Sunday
"Valentine's Day" — Rated PG-13; 7 p.m. and 9:15 p.m. Friday and Saturday, 4 p.m. and 7 p.m. Sunday
Tickets: $7 for ages 10 and older, $5 for ages 9 and younger
Sunday matinee: $5 for ages 10 and older, $4 for ages 9 and younger
Submit your event
Want to see your event featured in my "Livin' It Up" column? Submit the details for consideration by emailing me at mballeck@craigdai... or calling 875-1790.
This is one Craig weekend when there's no excuse to be bored.
With downtown culture, an outdoor festival, a couple of dances, lots of live music and Valentine's Day activities all crammed into one weekend, there's no excuse to sit at home.
• My favorite event of the year is here, and I can't wait. The 15th annual Art Walk and Taste of Chocolate are from 5 to 9 p.m. Saturday in downtown Craig.
The cool thing about Art Walk is strolling through downtown, stopping into businesses along the way to see local art, hear live music and socialize. I love having this little bit of culture in our little town.
My first stop is always at The Center of Craig, where Colorado Northwestern Community College pottery students display their work. They sell gorgeous mugs and bowls along with a bowl of soup for a good deal. We get a set every year, and we use them every day.
Taste of Chocolate is a tour through downtown with stops to sample the creations of local chocolate makers. So far, there are 14 chefs signed up, and there's still time for more to enlist.
Tickets are $10 each, and you get a box to take home leftovers. Trust me, you'll need the box. Get your tickets — they are going fast — by calling Nadine at 824-8148.
• For a more rough and rugged event, check out the Wyman Museum Winter Festival, both Saturday and Sunday at the Wyman Museum, 94350 E. U.S. Highway 40.
The two-day event features X-Treme Mountain Snow-X Racing, an antique snowmobiling show, ice climbing wall, chili cook-off, cardboard box derby, professional ice carvings, a hot totty bar and plenty of food and craft vendors.
There will also be sleigh rides, fireworks and an outdoor skating rink. Also, the event includes a romantic Valentine's Day dinner on February 13.
So there's plenty to stay busy with out there.
• On Friday night, feel free to costume up and party down at St. Michael Catholic Church's Mardi Gras party from 6:30 to 10:30 p.m.
The event includes dinner, music, a costume contest, door prizes, casino games and karaoke. There's also a cash bar to keep you hydrated.
All this goes down at the church, 678 School St.
Tickets are $15 for adults, or $20 at the door, and $10 for children. Call 824-5330 to get yours.
• There's a Sweetheart Dance on Friday night as well.
Hosted by the Yampa Valley Chorus of Sweet Adelines International, the dance includes dance contests, the best tasting salsa contest and some sizable prizes — dinner for two at the top of the gondola in Steamboat Springs, a whitewater rafting trip and more.
The dance is from 7 to 11 p.m. Friday at the Moffat County Fairgrounds Pavilion, 640 E. Victory Way, and costs $8 a person or $14 a couple.
• After you wrap up some of these other events, head out to your local watering hole for some tunes.
Carelli's Pizzeria and Pasta, 465 Yampa Ave., offers up the acoustic talents of Steve Ghirardelli, Brian Ghirardelli and Bill Ronis during Art Walk on Saturday, and will let them play for as long as they wish afterwards.
J.W. Snack's Bar & Grill, 210 E. Victory Way, has the band Cabin Fever gearing up at 9:30 p.m. Saturday.
The Sports Page Bar in the Holiday Inn of Craig, 300 S. Colo. Highway 13, offers the band Heywire from 9 p.m. to 1 a.m. Friday and Saturday, as well as a comedy show with a $5 admission charge at 7 p.m. Saturday.
• West Theatre is showing "Valentine's Day" and "Percy Jackson & The Olympians: The Lightning Thief" starting this weekend. I'd never heard of the "Lightning Thief" and again it looks too sci-fi for my taste. But I am pretty pumped about "Valentine's Day." Now I just need to find time to squeeze it into this Valentine's Day weekend.
• And in the middle of all this weekend's excitement, remember to take a moment to show your significant other that you care. Remember, Valentine's Day is Sunday so do something, even if it's a heartfelt, homemade card. That's right, guys, you must do something.