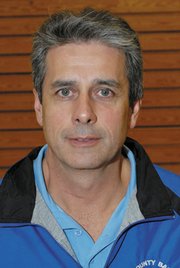 Steve Maneotis, Moffat County High School boys varsity basketball coach, has announced he will resign at the end of the season.
The coach turned in his resignation Friday, before his team lost, 69-58, to Delta at home.
Maneotis said resigning was in the best interest of the team.
"After a review with (princi­pal) Thom Sch­nellinger and Mr. (Richard) Wildenhaus, our conclusion was that I would offer my resignation for the best interest of the boys on the team," Maneotis said Monday afternoon. "It's through no fault of mine, or anyone else.
"There were no discrepancies, it was just my conclusion that this would be the best thing to do."
Maneotis, who has been head coach since the 2007-08 season and was an assistant coach 10 years before becoming head coach, has guided the Bulldogs to a 31-40 overall record, including a 4-15 mark this year.
The team is coming off its best game of the year, a 72-52 Saturday win at home against Palisade High School to snap an eight-game Western Slope League losing streak.
The high school's athletic director, Wildenhaus, said a search for a new coach would begin after the season.
Maneotis will coach until the end of the season.
"All year, I've told the guys they should never quit, never give up," Maneotis said. "That showed in how well they played Saturday against Palisade. It would be contradictory for me if I didn't finish the rest of the year."
Wildenhaus said the high school hopes to have a new coach before summer break.
"We want to have someone in place before the end of school so they can begin to develop a program," he said.
The new coach could be an internal candidate, Wildenhaus said, adding that applicants for open school positions also will be informed of the vacancy.
Wildenhaus said the decision to keep any assistant coaches would be left to the new head coach.
When Maneotis does leave, he will have only good memories from his 13 years as a coach at Moffat County High School, he said.
"I'm proud of everything I was able to accomplish as a coach," he said. "I'm proud of my team. I'm proud of my assistant coaches — Joe Padon and Justin Gallegos have done an outstanding job.
"I would like to thank all the kids who are playing today, and all of the players who have been a part of my 13 years as a coach. I thank the administration for letting me do what I have done."
Whoever inherits the program will get a team with an upside, Maneotis said.
"I think this is a healthy program, and we have guys who play the game the right way," he said. "The kids love and understand the game of basketball."
Maneotis said he was happy to coach because of the chance it gave him to interact with students.
"I hold every coach at Moffat County in the highest regard," he said. "Every coach there does a great job of helping the kids. And really, that's what it is all about.
"I will always hold the memories of my time at Moffat County close to my heart."
Junior Dylon Camilletti has played for Maneotis during his three-year varsity basketball career. Having to adjust to a new system will be a struggle at first, the starting guard said.
"It will be hard for us upperclassmen," he said. "We've been with him for a few years, we know his system. It will take a while to get to know the new system."
Camilletti said the team's returning five juniors, three sophomores and lone freshman on the varsity squad will need to make adjustments next year.
"It will be a change, for sure," he said. "But you always go through different coaches from middle school to AAU. You have to get used to the new coach."
The rest of the year, Camilletti said the team plans on doing what it did Saturday night.
"I don't think it's going to change anything," he said. "We're just going to keep doing what we've been doing. Keep playing hard.
"We have four more games, and we want to win those."