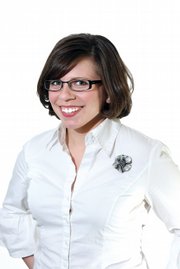 Weekend movie show times
29 E. Victory Way
824-2000
"Legion" — Rated R; 7 p.m. and 9:05 p.m. Friday and Saturday, 4 p.m. and 7 p.m. Sunday
"It's Complicated" — Rated R; 7 p.m. and 9:05 p.m. Friday and Saturday, 4 p.m. and 7 p.m. Sunday
Tickets: $7 for ages 10 and older, $5 for ages 9 and younger
Sunday matinee: $5 for ages 10 and older, $4 for ages 9 and younger
Submit your events
Want to see your event featured in my "Livin' It Up" column? Submit the details for consideration by emailing me at mballeck@craigdai... or calling 875-1790.
Don't you just love weekends where you can stay in your jammies all day and hang out, looking forward to some laid back plans for the evening hours? I sure do, and that's what this weekend seems to be made for.
• For some relaxed culture, Serendipity Coffee Shop will host its open mic night from 7 to 10 p.m. Friday.
Sit back, relax and listen to some music and poetry — or perform it, if you're into that sort of thing — while sipping a latte.
It's free of charge and it's at Serendipity, 576 Yampa Ave.
• If you're into something a bit more upbeat, check out Taylors Bayou, a country/Southern rock band, performing live from 9 p.m. to 1 a.m. Friday and Saturday at the Sports Page Bar in the Holiday Inn of Craig.
Have a few drinks and enjoy the tunes, or give your cowboy boots some wear and dance along. From the sound of it, this band is good for either of those.
Check it all out at 300 S. Colo. Highway 13.
• Of course all you sports fans know about Super Bowl XLIV, airing at 4:25 p.m. Sunday on CBS.
Some of you may get excited for the New Orleans Saints—Indianapolis Colts match-up. And I'll admit, I'm a tad excited too, particularly since Keith and I have money on the game.
But really, Super Bowl Sunday is so much more about the food and friends to me. So find a buddy's house or a local bar to check it out and cheer on whichever team you love.
The Saints are currently favored on our online poll. Place your vote before noon Sunday at www.craigdailypress.com.
• If you're willing to venture out of your PJs during the day, the Winter Carnival runs through Sunday in Steamboat Springs.
Sounds like a whole lot of ski and snow fun in the streets.
Find out more and find a complete schedule at www.steamboat-chamber.com and click on the Winter Carnival link on the left.
• For the ultimate in a lazy weekend, check out a movie or two from one of the six redboxes in Craig. I didn't see many new movies out, but they often have some classics worth a second viewing.
• Or, head out to catch "Legion" or "It's Complicated" at West Theatre. Both are rated R and both look like flicks I'm going to skip.