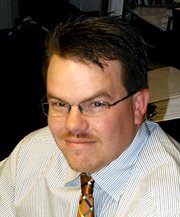 Business News Tips
The Daily Press wants to know what's happening at your business or place of
work, including promotions, new employees, transfers, awards, special deals, new products and more.
Send all your business news tips to Bryce Jacobson by e-mail at:
<
p>bjacobson@craig...
>
Are you looking to clean up the view from your driver's seat?

Nu View Auto Glass is ready to assist you in the task.

Having served the Craig area now for about 10 years via a mobile service, the business has now opened a store location at 1115 Yampa Ave. in Craig.
The business is now capable of providing you with both mobile and in-shop windshield service.
Elisa Hayes, formerly of KRAI, has joined the team this month as office manager. She will be responsible for sales, taking care of phones and scheduling.
Owners Brandon and Tressa Woods, of Vernal, Utah, have been working in the industry now for about 14 years, Tressa said.
Nu View currently has 11 employees, four of which reside in Craig.
The business ensures that all of its installers are certified with the National Glass Association.
Stop by the shop in Craig, or call 824-8998 to set your appointment today. You can also visit them online at www.anuviewautoglass.com.
Triple M Electric promotes employee
Jesse Jackson recently received a promotion that has him now managing the day-to-day operations of Triple M Electric.
Triple M Electric has been in business for about four years. It specializes in residential and commercial electric installation and service. However, Triple M has branched out in recent years to include some work in the industrial field.
Jackson has been employed by Triple M Electric for nearly two years now, and is excited to take on the new set of responsibilities. He has 14 years of experience; the first 12 years were with Steamboat Electric.
You can contact Jackson to congratulate him or to set up an appointment for electrical work by calling 620-1986.
Sheer Bliss Nails opens at 11 W. Victory Way
Sheer Bliss Nails has opened for business in the "500 Building" in downtown Craig.
The salon is located upstairs in the historic building at 11 W. Victory Way.
Heather Curtis, who graduated as a manicurist from CNCC Cosmetology Center, owns and operates the business.
She is available by appointment any time and during business hours from 10 a.m. to 4 p.m. Mondays thru Wednesdays.
You can stop by her downtown location or give her a call at 620-5595.