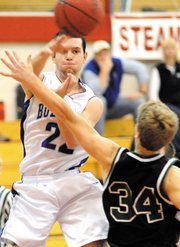 The Moffat County High School varsity basketball teams had similar results in the first two days of the Steamboat Springs Shoot-Out, but Saturday's games saw the boys and girls get a boost in how they were competing.
And, though neither Bulldog team ended up victorious, they each played the strongest they had in the entirety of the tournament.
The girls varsity team won its third of three games Saturday morning against the Wolves of Green River, Wyo., in a hard-played 52-27 triumph. The win landed the team in seventh out of eight girls teams in the Shoot-Out.
The team lost 47-41 Thursday to Montrose and 45-43 Friday to Castle View. Coach Matt Ray said a win was a welcome change of pace in the series.
"It was definitely a great game," he said.
The 25-point margin makes the game the strongest of the girls' 3-3 season record. Ray said the team dominated the Wyoming opponents from beginning to end.
"We just took control of the ball from the get-go," he said.
The Bulldogs took a promising 14-5 lead in the first quarter, holding the Wolves to a scoreless second quarter before driving up the score with a pair of 16-point quarters in the second half.
Junior Melissa Camilletti finished the game with 13 points, followed by senior Callie Papoulas with 10 and junior Annie Sadvar with eight.
Boys coach David Bradshaw said his players also had their best game of the season on Saturday.
"We ended up with four guys score in double digits, so that's a good sign," he said.
But, despite a closer score than the 67-44 Thursday loss to Montrose and the 67-41 Friday defeat to Windsor, the boys fell 71-59 to the D'Evelyn Jaguars.
"At times, we were doing well, but we were just missing a few things," Bradshaw said. "Our main problem was turnovers."
Bradshaw said the Bulldogs had 26 turnovers during the game. The team also had a difficult time adapting to D'Evelyn's defensive strategies.
"They're a real full-court pressure team," he said.
The loss put the boys team in eighth place in the Shoot-Out. The team's season record is 0-3.
Bradshaw said the tournament has prepared his team for tough opposition to come.
"We faced some good teams and that just gets us that much better," he said. "We get better every day."
The boys and girls varsity and junior varsity teams will play Grand Junction's Central High School starting with girls JV at 3 p.m. today. It will be the first home game for both boys and girls.
"We're excited to play in front of our home fans. I think the experience we gained this weekend will carry over," Bradshaw said. "All we can do is just go out there and play hard and get ready for the (Western Slope) League teams."