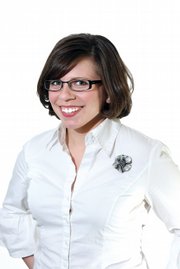 Weekend movie show times
29 E. Victory Way
824-2000
"The Chronicles of Narnia: The Voyage of the Dawn Treader" — Rated PG-13; 7 and 9:05 p.m. Friday and Saturday, 4 and 7 p.m. Sunday
"Tangled" — Rated PG; 7 and 9:05 p.m. Friday and Saturday, 4 and 7 p.m. Sunday
Tickets: $7 for ages 10 and older, $5 for ages 9 and younger
Sunday matinee: $5 for ages 10 and older, $4 for ages 9 and younger
Submit your event
Submit your event's details for consideration by e-mailing me at mballeck@craigdai... or calling 875-1790.
If you aren't in the holiday spirit just yet, this weekend provides plenty of opportunity to plunge in.
• Browse through the offerings at the Winter Arts and Crafts Show this weekend,
The show runs from noon to 7 p.m. Friday and 9 a.m. to 4 p.m. Saturday at Centennial Mall, 1111 W. Victory Way.
The show includes more than 80 vendors with unique finds. Also, Santa Claus will be on hand from 1 to 5 p.m. Friday and 11 a.m. to 3 p.m. Saturday.
Call Centennial Mall at 824-7011 to learn more.
• Drop off your donations at the annual Holiday Drive, which continues from 6 a.m. to 6 p.m. today at Centennial Mall, 1111 W. Victory Way.
KRAI hosts the event, which is a benefit for Christmas for Kids, Christmas for Seniors, Advocates Crisis Support Services and Interfaith Food Bank.
Find a list of what's needed at www.krai.com.
• Fa la la la la la la la la.
Warm up your vocal chords then brave the cold to join a group of Christmas carolers Friday.
The group will meet at 5:30 p.m. in the north parking lot of First Congregational United Church of Christ, 630 Green St., and will travel in cars. The group will sing at Sunset Meadows I and II, Sandrock Ridge Care & Rehab and The Memorial Hospital.
After the caroling, there will be cookies and hot chocolate at the church.
Sounds like fun. Call the church at 824-6836 if you want to join in.
• Christmas has come early to Lodore Hall.
A country Christmas celebration is planned for noon Saturday at Lodore Hall in Browns Park.
There will be a free dinner with turkey, ham and all the trimmings. If you want to go, take a wrapped and labeled gift for children, and a dessert or salad to share.
Call the Browns Hole Homemakers Club at (970) 269-3000 or (970) 272-3213 to get all the details.
• Practice up before Saturday so you can rock the Elks National Free Throw Hoop Shoot Contest.
The contest begins at 8 a.m. Saturday at Sandrock Elementary School, 201 E. Ninth St.
The event is open to all boys and girls ages 8 to 13.
For more information, call Frank Sadvar at 620-0874.
• West Theatre has in the new release "The Chronicles of Narnia: The Voyage of the Dawn Treader" and is holding over "Tangled."
Redbox has "Across the Line," "Charlie St. Cloud" and "Shrek Forever After" out this week. Also out is "Restrepo," a documentary about a military outpost in Afghanistan.