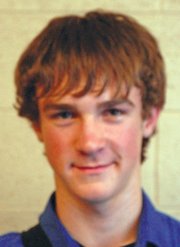 Tanner Rust
Age: 14, Rifle High School freshman
Sport: Basketball
How did you get your start in your sport?
"When I was young, my dad and my brother played, and my dad got me started."
Are there any competitors you're looking forward to playing this season?
"Not really, I just want to play one game at a time."
What kind of things do you want to improve on?
"Rebounds."
What strengths do you bring to the team?
"Leadership and working hard."
What is one thing about your team that an outsider might not know?
"We're all pretty quick on the floor."
Favorites:
Food: Pizza
Movie: "The Hangover"
Book: "The 'Hatchet' series"
TV Show: "Rob Dyrdek's Fantasy Factory"
Music: Country or hard rock
Pro athlete: Carmelo Anthony
Leisure activity: "Being outdoors."
Editor's note: An earlier version of this story contained a mistake. We apologize for the error.