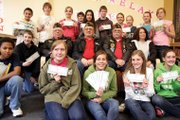 Winners
Winners of the Patriot's Pen Contest:
• First place — Chancey Graham, $30
• Second place — Cameron Martin, $20
• Third place — Shayna Allen, $10
Honorable mentions:
• Katelyn Peroulis
• Laurel Tegtman
• Dylan Bagley
• Calden Scranton
• Abigail Gonzalez
• Aubrey Campbell
• Christopher Kling
• Kaleb Bugay
• Rachel Sonntag
• Dimen Trujillo
• Heather Wood
• Hazel Quinones
• Treann Quick
— Contest winners received Craig Chamber of Commerce Spree Bucks as prizes. Students who received honorable mention nods earned $5 in Spree Bucks.
Mark Wick, commander of the Veterans of Foreign Wars Post 4265, said participation for this year's essay contest was higher than usual.
"The word is out that the vets are good for Spree Bucks," he said.
Wick and several other members of the VFW were at the Craig Middle School cafeteria Thursday to announce winners of the VFW's third annual Patriot's Pen Contest and to hand out awards of Craig Chamber of Commerce Spree Bucks to an assembly of seventh- and eighth-grade students.
"The first year, we had very few applicants," Wick said. "Then, we started bribing students."
Wick said 16 students from CMS participated this year.
Students were asked to write essays between 300 and 400 words and submit them by Nov. 1. This year's theme was "Does Patriotism Still Matter?"
According to the contest guidelines, middle school students across the country are "given the opportunity to express their opinion on a patriotic theme and improve their writing skills, while they compete for awards and prizes."
All participating students were awarded Spree Dollars, totaling $125. Spree Dollars are gift certificates that can be used at any Craig business.
Eighth-graders Chancey Graham, Cameron Martin and Shayna Allen won first, second and third prizes, respectively.
Allen said her essay focused on how American patriotism has shaped the world, and what the U.S. would be like without allegiance to the country and its flag.
"We could be under a dictatorship or a bad form of government," Allen said.
Eighth-grade language arts teacher David Morris said the essay contest wasn't a graded project.
"It's strictly voluntary," he said.
For two weeks in October, participating students used their daily intervention/enrichment period to work on the essays, Morris said.
"They all worked really hard for that two-week period," he said.
Wick told the assembled students that judging the winning essays was difficult.
"I want you to know that you guys are killing us," Wick told the crowd. "The difference between honorable mention and first place is razor thin.
"You kids are doing a great job. You should all be proud."
Morris said he empathized with the VFW members.
"I knew they were going to have trouble judging them," Morris said of the essays' quality. "I didn't want to judge the dang things."
Wick said the top three essays from each participating middle school will be sent up the VFW ranks.
Essays will move up to the district level, then to the state level and, finally, to the national level.
Ten prizes will be awarded at the national level.
"There is a $10,000 bond for first place, an $8,000 bond for second place and a $7,000 bond for third place, and so on," Wick said. "It goes down to a $1,000 bond."
Wick said the VFW works with high school students, as well.
"We have other scholarships that are available through the VFW," he said. "One (program) is called the 'Voice of Democracy,' where a student can get a $30,000 scholarship and a trip to Washington, D.C., with their family.
"But, unfortunately, no one at (Moffat County High School) has applied for this."
Wick said he hopes the VFW's involvement with younger students will eventually change that.
"We're bribing them at an early age, so when they get up (to MCHS), they'll be ready for it," he said of the scholarship.
Morris said there was another added benefit of the students' essays.
"Copies were made of their papers and they were sent to Afghanistan," Morris said. "They were sent through the public library."
Sherry Sampson, director of the Moffat County Libraries, said the essays were sent overseas before Thanksgiving as part of the library's Project Soldier campaign.
The library has been collecting donations of sundry items for soldiers since mid-October.