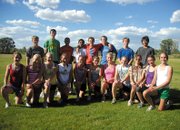 2010 MCHS cross country schedule:
Time Date Place Host
4 p.m. Sept. 3 Away Arapahoe
10 a.m. Sept. 4 Away Pre-state at Cherry Creek
5 p.m. Sept. 10 Away Grand Junction Central
5 p.m. Sept. 17 Away Liberty Bell Invitational
10 a.m. Sept. 25 Home Moffat County
10 a.m. Oct. 2 Away Fruita-Monument
9 a.m. Oct. 9 Away Englewood
5 p.m. Oct. 14 Away Rifle
10 a.m. Oct. 23 Away Regionals at Montezuma-Cortez
10 a.m. Oct. 30 Away State at Cherry Creek
MCHS cross country team at a glance:
Returning runners (2009 state finish in parentheses):
Kye Adams (148)
Jarred Blevins (165)
Kelly Ciesco (137)
Nike Cleverly (79)
Bailey Hellander (74)
Maddy Jourgensen (4)
Alfredo Lebron (18)
Eryn Leonard (29)
Jaycee McCoy (163)
Rene Molina (143)
Sassy Murray (115)
Chris Zirkle (6)
Coaches:
Todd Trapp — 9th year
Jennifer Pressgrove — 5th year
By the numbers:
• 16/17 and 9/9: In 2008, the MCHS girls finished 16th at the state meet, despite having state champion Alicia Nelson on the roster, while the boys finished 17th. In 2009, both teams finished ninth.
• 2: Western Slope League titles for coach Todd Trapp in 2009-10. Both the boys varsity cross country and track and field teams claimed first in the league.
• 1: The MCHS girls cross-country team missed the league crown by one point, as Montrose was able to slip past them.
The names of individuals who won state cross-country titles during their time in Bulldog blue aren't engraved. Their jerseys aren't lifted into the rafters.
For one, cross-country runners don't have numbers, and even if they did, they probably wouldn't be retired.
State and school records aren't hung up on the wall, like with track and field athletes.
But, on the walls of the Moffat County High School gymnasium, there are still banners.
Side-by-side with the wrestling state championship banners, there are the cross-country state champions.
The meaning?
Team-first.
The question with this year's installment of the MCHS girls varsity cross country team is this: The top is sturdy, but will the base hold?
Senior Maddy Jourgensen thinks so.
"I realize last year we came so close," she said. "I'm not sure how many other girls teams have won regionals in the past, but it's definitely something we would like to add to. It's something we all want to be a part of."
While the season is early — the team is coming off Aug. 27 time trials — Jourgensen sees the promise in this year's crop of returning distance runners.
"I'm not sure how we will do at state," she said. "But, I think we will be decent. It will be interesting to see how high we can go."
Last year, the girls team was one point away from a regional crown. The boys team was able to win the regional title.
For Jourgensen's senior year, there is a feeling of déjà vu.
Her path to state appears eerily similar to that of another lauded Bulldog.
Alicia Nelson, a 2009 MCHS grad, finished 25th as a freshman, seventh as a sophomore, fourth as a junior and was the state champion as a senior.
Jourgensen was 15th as a freshman, sixth as a sophomore and fourth as a junior.
A large part of her success came from following Nelson, Jourgensen said.
"She helped me out so much," she said. "When I was running with her, I learned how to pace myself, and she taught me strategies to help me during a race.
"It was fun having her here, running together."
After Nelson graduated, Jourgensen didn't have to wait long for her own cross-country pupils.
Just as Nelson was a junior when she had Jourgensen join her side as a freshman, Jourgensen received her reinforcements as she entered her third year.
"Eryn Leonard is a sophomore now, and in a lot of ways, she reminds me of me," Jourgensen said. "I was two years behind Alicia, and Eryn's two years behind me. When (Nelson) was here, I was always with her, always trying to keep pace with her.
"Now that's where Eryn is. She's right there with me."
Also with Jourgensen is the entire front seven from last year's team.
Senior Nike Cleverly (No. 79) returns, along with junior Kelly Ciesco (No. 137).
Sophomores Leonard (No. 29), Bailey Hellander (74), Sassy Murray (115), Jaycee McCoy (163) and Hayden's Savannah Williams round out the team.
Like Nelson, Jourgensen wants to end her cross-country career on the highest note possible.
"I really want to win state," she said. "I mean, everyone would. I'll be happy if I try my best and place as high as I can."
From Alfredo to Zirkle
At the state meet, on a surprisingly warm November day last year in Fort Collins, the Bulldogs announced they were back.
The boys squad whipped across the line like blue cars through a causeway.
Chris Zirkle finished sixth in 2009. Of the runners in front of him, only one — Castle View's Chris Ganem — returns for 2010.
Junior Alfredo Lebron, who was 18th overall in 2009, was the second fastest sophomore, behind No. 13, Fossil Ridge's Edward Cleary.
But, do the Bulldogs have enough after losing seniors Alex McCoy and Corey Wojtkiewicz to graduation in 2010?
"We had a really good year last year," head coach Todd Trapp said. "This year, we have a lot of really good kids returning. We have good kids on the boys side, and good kids on the girls side."
That is not to say the road ahead won't be hard.
For the girls, Evergreen (No. 3 in 2009) returns its top-five. Alamosa, the reigning state champions, took a hit but retained the state champion. Graduation hit Montrose hard, but the Indians are the reigning league champions and have enough to compete for a second league title.
"Montrose should be pretty good again this year," Trapp said. "We are returning our top-five, and a couple of girls who really came on strong toward the end of last year."
Jourgensen was in elite company in 2009. In 2010, that company returns.
The state champion, Greeley Central's Allie Parks, returns for her senior year. It's the same story with No. 3, Alamosa's Nicole Desouchet, who finished four seconds ahead of Jourgensen.
Alamosa won the title in 2009, with its top five scattered throughout the first 55 runners across the line and an average time of 19 minutes and 49 seconds.
MCHS averaged a minute more.
On the boys side, 2009's state champion, Wheat Ridge's Scott Fauble, graduated, leaving a hole at the top.
Cheyenne Mountain, with its two three runners (No. 14 Mitch Kasyon, No. 34 Ludovic Funfrock and No. 44 Jake Fox) should compete for a top spot.
In the Western Slope League, former powerhouse Battle Mountain could be back, and Trapp said Glenwood Springs, Delta and Steamboat Springs can't be counted out.
"You really have to make sure you keep practicing and keep getting better," he said. "I know those teams are going to push us."
But, Trapp said he has a pair of aces up its sleeves.
"We are really strong up front," he said. "We have our top two runners back this year, and Alfredo (Lebron) and Chris (Zirkle) are about at the same level."
Joining the Lebron/Zirkle one-two punch are cousins Rene and Miguel Molina, Kye Adams, Jarred Blevins and Matt Hulstine.
The fifth through seventh spots on the varsity team are up for grabs, which could lower scores, Trapp said.
"Anyone could be in the top five on any given day," he said. "It really just depends on the day."