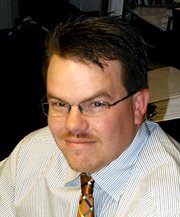 Business News Tips
The Daily Press wants to know what's happening at your business or place of
work, including promotions, new employees, transfers, awards, special deals, new products and more.
Send all your business news tips to Bryce Jacobson by e-mail at:
<
p>bjacobson@craig...
>
As the beginning of a new school year approaches, parents and students are getting themselves ready.
There are school supplies and clothes to be bought.
I want to use this week's business column to encourage you to make every attempt you can to shop with our local retail stores.

I realize that some things have to be bought out of town because they aren't available here, but much of what students need can be bought here.
School supplies can be found at places such as Kmart, 1198 W. Victory Way; Walgreens, 750 W. Victory Way; and the Copy Shop, 99 E. Fourth St., in downtown Craig.

School clothes for him or her can be purchased at places such as Murdoch's Ranch & Home Supply, 2355 W. Victory Way; Maurices in the Centennial Mall, 1111 W. Victory Way; and the JC Penney catalog store located at Furniture Connection in the mall.
Rather than spending time driving to and from wherever to go shopping, you can spend what little time of summer we have left grilling in the back yard.
And on that subject
I would recommend the hot dogs that are available at Brother's Custom Processing, 383 E. First St., and the marinated chicken or beef skewers available at City Market, 505 W. Victory Way.

You can also purchase great burgers at places like Mountain Meats, 291 Lincoln St., or Safeway, located next to Centennial Mall.
Finish your barbecue off with dessert from McDonalds, 1080 W. Victory Way, or TCBY, 1420 W. Victory Way.
Explorecraig.com business spotlight
According to Precision Auto's www.explorecraig.com listing, the business has been serving Northwest Colorado for more than 16 years.
"We do any repair from oil changes to engine work," the business reported in the listing. "We have 3 ASE mechanics that have the professional touch that will make your vehicle run right again.
"You're welcome to call and make an appointment or walk in. We appreciate our customers!"
You can contact them by stopping by the 1294 W. Fourth St., location, right behind Yampa Valley Bank, or by calling 824-8566.
The business can also be found by searching www.explorecraig.com using keywords such as "oil changes."