At your service
Local women honored in food and beverage industry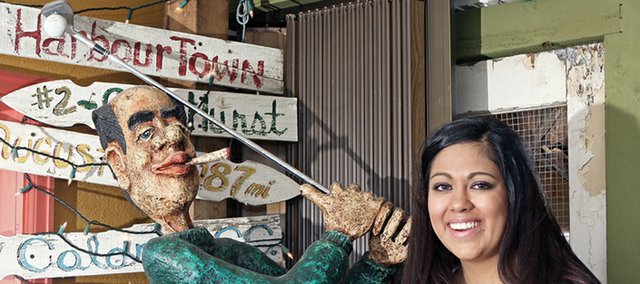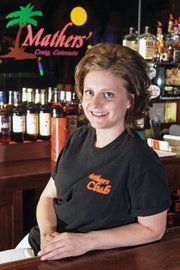 Mike Mayer sidled up to the bar in Mathers' Lounge & Café on Wednesday evening and slid an empty glass across to Erin Mathers-Call.
With a smile and a blink of her wide gray eyes, Mathers-Call grabbed the glass of clinking ice and remnants of brown liquor.
"You want another one, honey?" she asked.
Mayer looked at his watch and decided to call it an evening.
But that didn't stop him from sticking around for a few minutes of conversation with Mathers-Call, his favorite bartender in the establishment he's visited every week for 10 years.
Mayer frequents Mathers' for more than just a drink; in his bartender, he finds a welcoming smile and friendly conversation.
And, he's not the only one to voice his appreciation for the woman who pours his whiskey.
Craig Daily Press readers voted Mathers-Call Moffat County's best bartender in the 2010 Best of Moffat County contest.
"Best bartender in the county?" Mayer said with a glance across the bar. "Heck, she's probably the best in the whole dang country."
For Mathers-Call, bartending is less of a job than it is an evening with friends and family. Her uncle, Tom Mathers, owns the bar, and Mathers-Call remembers spending afternoons there as a child.
"It's a fun atmosphere," she said. "All my friends hang out here, and I just enjoy being around people and the conversation."
And, for many of her regulars, she's more than just a bartender.
"Erin and her whole family, they're like my best friends," Mayer said.
Mathers-Call said she was shocked when she heard she was voted Moffat County's best bartender.
"I have no idea why, honestly," she said. "I mean, I've only been working a few shifts a week the last few years.
"I think I just treat them as people. I don't treat them as drunks."
A few miles away Thursday morning, overlooking the Yampa Valley Golf Course, another Moffat County woman was serving up drinks, smiles, food and conversation to a few tables at the Tin Cup Grill.
Vanessa Padilla, 21, was voted Moffat County's best waitress in the 2010 Best of Moffat County contest.
For Padilla, waiting tables comes as naturally to her as smiling.
Padilla said she started working in restaurants when she was 13.
"I worked in my mother's restaurant," she said. "And I hated being a dishwasher, so I started waiting tables."
She's only worked at Tin Cup for two months, but she said many people in the community probably know her from her other positions at the Village Inn, the Holiday Inn of Craig and Subway.
"I just love it," she said. "I get to meet a lot of new people and I try to be really friendly and not bug them too much."
She flitted from table to table Thursday, refilling drinks and talking to her customers as if they were old friends.
She wore her waist-length black hair in a ponytail and had outlined her eyes with glittering purple eyeliner.
At a corner table, Tin Cup regular Lorraine Kawcak had no idea the waitress about to serve her lunch had received the honor.
"Oh, that's neat," Kawcak said when she heard the news. "She's really great, really attentive. It's her customer service. She really makes you feel taken care of."
Serving the community their food and drink isn't a career for either Mathers-Call or Padilla.
Both women have other obligations and passions.
Padilla is studying to get her associate's degree and is interested in psychology.
Mathers-Call has two sons, ages 3 and 5, and only works one or two shifts each week for the family business.
But both find joy in being liaison from kitchen to table and from beer keg to chilled glass.
"It's just like hanging out," Mathers-Call said. "People come in to have fun. And we want them to have a fun time, and a safe evening."
For Padilla, even one or two unhappy customers will not ruin her mood, nor will she pass on a bad vibe to her other guests.

"As long as you do your job, you can have fun, too," she said.
Nicole Inglis can be reached at 875-1793 or ninglis@craigdailypress.com.