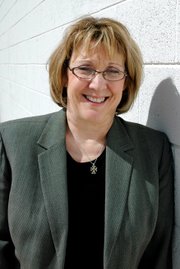 While lying in her hospital bed in Salt Lake City, Marianna Raftopoulos told her family about the kind of flowers she wanted at her funeral.
She told her children to make sure their Craig home always was clean and that her boys, George, 24, and Angelo, 17, married beautiful, successful women.
Her daughter, Mari Kath-
erine, 21, asked her about her favorite song, wanting to make sure the celebration of her mother's life was perfect.
"I thought it was going to be 'I Heard it Through the Grapevine,'" Mari Katherine said. "Instead she goes, 'I love my husband, and I love my three kids.' Well, that's great, Mom, but, that's not really a song."
But, it became one.
During one sleepless night after Marianna's death April 14, Mari Katherine, George, Angelo and several cousins wrote her that song.

At a gathering at the Moffat County Fairgrounds Pavilion on Monday following Marianna's memorial service, the group sang while Angelo played guitar.
"She loved her husband and she loved her three kids," the group sang with their arms around one another. "She always started out like she was going to win. A million-dollar smile and real good style, she worked hard and went that extra mile."
Marianna died in her Craig home after an 11-year battle with chronic lymphoid leukemia.
She is survived by her parents, Nick and Helen Mahleres, of Grand Junction; husband John; and children George, Mari Katherine and Angelo.
A memorial service took place Monday at St. John the Baptist Greek Orthodox Church, with interment following at the Craig Cemetery.
St. John's was reserved for about 150 family and close friends, but hundreds of people arrived to say a final goodbye.
The service was transmitted live to two nearby churches, St. Mark's Episcopal Church and the First Congregational United Church of Christ, both of which also were full.
The Pavilion also broadcast the live feed.
Family members said 800 people were expected to attend.
Technical issues kept many from viewing the entire ceremony with both audio and video.
However, Marianna was known for her hospitality and desire to include everyone, friends said.
A broken video camera never would have stopped her from making sure everyone was together in one place.
"She made friends easily," Marianna's husband, John Raftopoulos, said as he gestured around the Pavilion on Monday afternoon. "As you can tell."
About 400 people attended the celebration, which featured catered food, a bar, music and a slide show featuring pictures of Marianna through the years.
Marianna touched many lives, but she captured John from the moment she was born, he said.
"She was more or less a brat," he said of the young Marianna. "She called me a big fat red zero,"
He chased her for years, following her around like a "puppy dog" on a 1966 trip to Greece their families took together.
Twenty-six years ago, Mari-
anna and John married.
John said she worked on the family ranch in Craig, helping with calving, lambing and regular chores. Once her first son, George, was born, however, she began to grow bored.
She became active in the community, serving on several boards including the Craig/Moffat Economic Development Partnership, The Memorial Hospital Foundation, the Boys & Girls Club of Craig and the Colorado Wildlife Commission, among others.
She was the first and only woman to be elected to the Moffat County Commission, on which she served for eight years.
At the pavilion gathering, Audrey Danner read a letter of sympathy signed by local state representatives, while Mike Thompson read a letter from former Gov. Bill Owens.
Both letters testified that Marianna worked tirelessly for her community, and her organization and drive was rivaled by few.
She most recently worked as a consultant in the oil and gas industry.
"Whenever she was in an organization, she would take control," John said. "People would just stand around waiting for her to give them directions."
But whether it was a party or a political event, nothing could hold a match to her family, John said.
"She was like a bear," he said. "Don't ever try to get between her and her cubs."
He said people approached him all day Monday, sharing well wishes and memories of Marianna.
He noticed all the memories had one thing in common.
"It was her kindness," he said. "She always had a smile for everyone, whether it was a congressman or the person who worked at Kmart."
Her warmth and devotion to her family and faith is not something friend Ann Charchalis will soon forget.
Charchalis met Marianna more than 30 years ago. The two were sorority sisters in Pi Phi at the University of Colorado at Boulder.
"She was a legend in the house," Charchalis said. "And it was because of her kindness. She made everyone feel welcome. And, she was fun. She could find something funny in everything."
The pair ended up living in Craig and raised their children together.
"She couldn't do enough for her kids and for everyone else's kids," she said. "She was always organizing Christmas parties, things for the kids for Easter. ... She was a doer. She never waited for someone else to do it."
She said her late friend would have felt right at home at the Pavilion gathering, where the room was alive with singsong voices and clinking silverware. Everyone had a smile, a kiss and a hug for everyone else, whether it was a relative or a stranger.
Husbands held onto wives, while cousins hugged and patted one another on the back.
"She would have loved it," Charchalis said. "She would have talked to everyone in this room. She was so inclusive. She wanted to make sure everyone was included."

Eleni Mahleres, Marianna's niece who lives in Denver, said nothing made Marianna happier than seeing all of her family together.
"She was always pushing us to be together," she said. "In one of the last conversations she had with my dad, she told him to keep the family together. And now, we'll never leave each other.
"I'll miss her spirit, her smile, her comfort. I feel like I'm a changed person because of her."