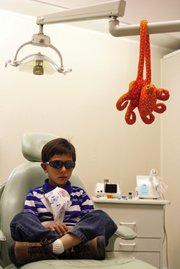 Resources
Those who need help with dental care can call the Northwest Dental Coalition at 970-824-8000. Located at 485 Yampa Ave. in Craig, the dental coalition accepts Medicaid. Bear River Dental Associates in Hayden, at 970-276-3123, also accepts Medicaid.
Routt County residents seeking Medicaid eligibility screening or other health services and referrals can call the Northwest Colorado Visiting Nurse Association at 970-879-1632 or visit the Steamboat Springs VNA office in the medical building next to Yampa Valley Medical Center.
Resources also are available through Routt County's human services department, at 970-879-1540.
Steamboat Springs — Local health officials said last week that the struggles of many Northwest Colorado families to provide oral care for their children are being compounded in the economic recession, potentially worsening an already alarming amount of dental disease in local youths.

"People don't think about (oral health), especially when, financially, things are really tough," said Janet Pearcey, executive director of Northwest Dental Coalition in Craig. "That's kind of last on the list."
Northwest Dental Coalition is one of few practices in the region that accept Medicaid for dental care. Bear River Dental Associates in Hayden is another. They might be the only two. Pearcey said Northwest Dental is "the only provider within five counties that offers discounted services" such as a sliding fee scale. In 2009, Pearcey said, Northwest Dental served about 1,200 patients. About 60 percent of them were younger than 18, she said, and about 360 were from Routt County.
"We have more kids from Routt County than we do adults," Pearcey said.
Sue Birch, CEO of the North­west Colorado Visiting Nurse Association, spoke about local children's dental health in a presentation this month to the Steamboat Springs City Coun­cil. Citing figures from the Colorado Department of Public Health and Environment, Birch said an estimated 66 percent of Routt County third-graders in the 2006-07 school year had a history of cavities, compared with about 57 percent statewide. Nearly 32 percent of those third-graders had untreated tooth decay, Birch said, compared with less than 25 percent statewide.
"Thirty to 50 percent of our kids have serious dental disease," she told the City Council. "This is 2010, and we're seeing Third World conditions right here."
She added that Routt County fails to meet any standard oral health measure.
"It's pretty scary," Birch said.
Northwest Dental care providers visit Steamboat Springs one or two days each month, using the donated office of Dr. Gary Fresques on Central Park Drive. Birch said many local dentists and health care providers are willing to accept patients for reduced rates on a case-by-case basis, often on referrals from the VNA.
"The physicians in our area have been extraordinarily charitable — they all take payment plans, but that is still a barrier (to care) … when someone has to be your patient navigator to get you in," Birch said.
Birch said because Medicaid "typically pays 15 cents on the dollar," accepting the federal program often costs dentists more than providing the care.
Pearcey said Northwest Den­tal receives its funding from local organizations and municipalities, including United Way branches in Routt and Moffat counties, the counties themselves, the Colorado Health Foundation and private donations.
"We survive on foundation support — we're very fortunate to have that funding," she said.
Pearcey said parents and families could receive care through avenues including her office, the VNA, LIFT-UP of Routt County and social services.
"We all kind of work together," she said.
Parents often don't seek help until their child has a need, she said.
"Most of the time, we get (children) into the clinic because they have an abscess, toothache, there's something significant going wrong — that's usually what prompts the visit," Pearcey said. "The schools call a lot of times — it can come from a lot of different sources."
Pearcey said that upon that first visit, she and her staff start an education process to talk about preventive care and routine cleanings.
Last week, Frances Vigil, of Craig, brought her grandson, 6-year-old Adriel Vigil, to Northwest Dental to have a cavity filled. It wasn't his first cavity, and he'll have another filled Thursday, she said. Adriel's mother has two other children and is trying to find work and does not have a car, Vigil said.
There was no charge for the filling.
"Thank God that there is help out there for them, to keep their teeth up and stuff like that. If they didn't have that, I don't know," Vigil said. "We're really blessed that there's something like that here in Craig. … Otherwise, those children would be suffering."