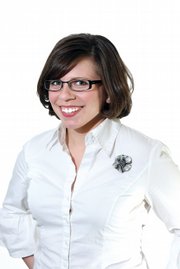 Weekend movie show times
29 E. Victory Way
824-2000
• "Clash of the Titans" — Rated PG-13; 7 and 9:05 p.m. Friday and Saturday and 4 and 7 p.m. Sunday.
• "How to Train Your Dragon" — Rated PG; 7 and 9:05 p.m. Friday and Saturday and 4 and 7 p.m. Sunday.
Tickets: $7 for ages 10 and older, $5 for ages 9 and younger.
Sunday matinee: $5 for ages 10 and older, $4 for ages 9 and younger.
Submit your event
Submit your event's details for consideration by e-mailing me at mballeck@craigdai... or calling 875-1790.
From theater productions to livestock sales and baseball games to a quick round of "getting to know you," there's quite a variety of activities happening this weekend.
The trick will be to pick the right combination to make your own perfect weekend.
■ There are four opportunities to catch Moffat County High School's performance of its spring play, "Alice in Wonderland."
Shows start tonight, with performances at 6:30 p.m. today, Friday and Saturday, as well as at 11 a.m. Saturday. The play is on stage at the auditorium, 900 Finley Lane.
Tickets are $5 for adults, $3 for children ages 5 to 12 and free for children younger than 5.
As a special bonus, enjoy tea and snacks with cast members after the show for $3 a person.
For more information, call the high school at 824-7036. Just be careful not to fall down a rabbit hole.
■ Don't miss the Putt-Putt Classic, the annual dress-up-and-bar-hop-oh-and-golf-too event.
It starts at 1 p.m. Saturday at Mathers Louge & Café, 420 Yampa Ave. There are holes at J.W. Snack's and The Pop too.
The cost is $5 per team, and there will be raffles for entrants as well as prizes for best-dressed and best scores.
The deadline to register is Friday, so get on it.
■ Catch some baseball action at 4 and 6 p.m. Friday as the Moffat County High School Bulldogs take on Palisade High School at Craig Middle School, 915 Yampa Ave.
■ Speed dating? That's right, speed dating.
The Sports Page Bar in the Holiday Inn of Craig, 300 S. Colorado Highway. 13, features speed dating Friday night. Sign-ups are at 8 p.m., and the event begins at 8:30 p.m.
I always wanted to do that when I was single — it looks entertaining in the movies — but I don't think the hubby would appreciate me attending now.
The Sports Page also hosts a beer pong tournament starting at 7:30 p.m. Saturday. There are prizes for the winners, as if being drunk isn't prize enough.
■ Travel the world — or at least take a virtual trip to Ireland — at 7 p.m. Friday as community members who recently went on Colorado Northwestern Community College's trip there share their experiences.
The presentation takes place at CNCC's Craig campus, in room 201. The event is open to the public.
■ If you like crafty fun, check out the spring bazaar from 9 a.m. to noon Saturday at Craig Christian Church, 960 W. Victory Way.
Homemade sweets and handmade gifts are for sale, and everyone is welcome to attend.
■ Those looking for a good dinner this weekend need to look no farther than Yampa Valley Chapter of Safari Club International's annual banquet and fundraiser.
The event starts at 5 p.m. at the Holiday Inn of Craig. Tickets cost $45 a person or $85 for a couple, and the proceeds stay local, which is nice.
Call 824-9624 to get your tickets.
■ Stock up on livestock this weekend at the North Western Colorado Bull Sale on Saturday at the Routt County Fairgrounds in Hayden.
Animal viewing begins at 9 a.m., with lunch from 11 a.m. to 1 p.m. The sale begins at 1 p.m.
I'm sure the sale is a good time, right? No bull.
Call the Colorado State University Routt County Extension at 879-0825 or the Community Agriculture Alliance at 879-4370 to request a sale catalog.