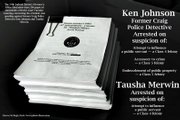 Offer help
The 14th Judicial District Attorney's Office is asking anyone with additional information regarding the allegations against former police detective Ken Johnson and Tausha Merwin to call office investigators Matt Harmon at 725-3371 or Joe DeAngelo at 846-6029.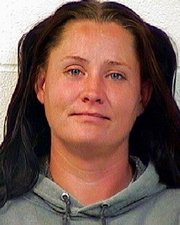 A former Craig Police Department detective was arrested Tuesday on suspicion of attempting to influence a public servant, accessory to crime and embezzlement of public property, all felonies.
Ken Johnson, 42, was arrested Tuesday afternoon and booked into Moffat County Jail. He posted bond about 6 p.m. and was released from custody.
Johnson, who had been with the police department for nine years, resigned Sept. 8.
Also arrested in connection with the same investigation was Tausha Merwin, 29, who prosecutors said Johnson had a sexual relationship with.
Merwin was arrested about 12:30 p.m. Tuesday and booked into jail on a charge of suspicion of attempting to influence a public servant. She posted a $5,000 bond Tuesday afternoon, according to jail records.
Johnson and Merwin's relationship partly took place while he worked with the All Crimes Enforcement Team, an area drug task force, and the Moffat County Drug Court, according to arrest warrant affidavits filed in Moffat County Court.
Merwin had previously pleaded guilty to distribution of a Schedule 2 controlled substance in 2008, and was a client of the Drug Court because of a previous conviction for possession of a controlled substance.
The affidavits state Johnson knew Merwin was violating terms of her probation by consuming alcohol, warned her of when probation officers planned to visit her home and gave her names of confidential ACET informants, all information she used to avoid detection by law enforcement.
Lastly, prosecutors allege Johnson gave Merwin a laptop computer and equipment owned by law enforcement.
Tuesday's arrests stemmed from an ongoing investigation by the 14th Judicial District Attorney's Office.
Jeremy Snow, deputy district attorney in the Craig office, said formal charges will be filed in the next few days.
When reached Tuesday afternoon, a police department spokesman said the department had no comment on the Johnson case.
"We have no comment, but we have been cooperating fully with the 14th Judicial District Attorney," commander Jerry DeLong said.
Alleged relationship of Johnson and Merwin
The details of Johnson's alleged relationship with Merwin are discussed throughout the 200-plus pages of court records filed as part of the district attorney's investigation.
According to various statements in the affidavits, their relationship began in 2007 or 2008.
It encompassed at least some of the time Merwin spent under the supervision of Drug Court, as well as time Johnson spent assisting with the criminal trial of a man convicted of kidnapping and assaulting Merwin in September 2007.
James Jerome Barry, who was the only one of four men charged in the kidnapping case to see trial, was convicted and sentenced to 24 years in prison.
The majority of the evidence of Johnson and Merwin's relationship included in the affidavits comes from more than 15,000 text messages shared between the two, which were obtained from both of their phone records.
Among other things, the text messages included in the affidavit show the two had at least one sexual encounter in the ACET office and were contemplating marriage.
However, Merwin's text messages to others besides Johnson revealed that she had sexual encounters with several people other than the former police detective.
The messages also indicate she used drugs with some of the people she was involved with, other than Johnson.
The affidavits state Johnson knew of at least one of Merwin's other sexual partners, but there is no evidence he knew of her alleged drug use nor that of her partners.
Johnson also intervened in Merwin's drug distribution case when he e-mailed then-District Attorney Bonnie Roesink in June 2008 and asked that Merwin be given a deferred sentence, which was granted.
The affidavits state Merwin's status with Drug Court was "tenuous" after her second drug-related arrest, but a deferred sentence would make her eligible for reinstatement.
Johnson's colleagues in law enforcement became suspicious the two were having a sexual relationship in mid-2008, according to the affidavits.
A report filed by ACET Commander Garrett Wiggins and included in court records states he questioned Johnson about their relationship in summer 2008.
Johnson admitted he was seeing Merwin, Wiggins reported, and said he would not let his relationship interfere with his Drug Court duties.
Wiggins also reported that another ACET officer told him Johnson was sleeping in the officer's basement and bringing Merwin over for all-night visits.
According to Wiggins' report, the other officer had previously been involved in arresting Merwin for distribution of drugs, and he felt his family's safety was jeopardized by Johnson's actions.
Wiggins states he became more concerned about Johnson and Merwin's relationship in January 2009 after it seemed to affect Johnson's work.
Johnson stopped reporting as often to Wiggins and the ACET office, and he did not respond to a message that he was needed for an undercover drug purchase operation, the ACET commander reported.
Wiggins filed a formal complaint against Johnson in March, the affidavits state, which partly prompted an internal police department investigation into Johnson's behavior.
DA probe leads to Tuesday's arrests
The affidavits state the initial Police Department investigation was inconclusive, in part because there was no proof of their relationship, and Johnson and Merwin denied being involved when questioned by police officials.
However, Johnson was reprimanded for transporting Merwin in a department-owned vehicle and suspended for a time without pay, according to the affidavits.
Investigators for the District Attorney's Office began their inquiry into Johnson's behavior in July, after the Colorado State Public Defender's Office began filing motions contesting the use of Johnson as a credible witness in criminal trials, according to affidavits.
The basis of motions from the public defender was that Johnson lied about his relationship with Merwin during the Police Department's investigation, and therefore he could not be considered truthful, the affidavits state.
DA investigators started with Johnson's time at ACET, specifically an incident in which Wiggins thought Johnson falsified reports and deleted evidence against Merwin in her drug distribution case.
All original information in the case since has been restored from the district attorney's records, according to the affidavits.
K.C. Hume, a lieutenant with and information technology manager for the Moffat County Sheriff's Office, first examined the computer equipment and concluded Johnson "probably" manipulated the records.
A final forensic analysis of the computer equipment is pending from the Rocky Mountain Regional Computer Forensic Laboratory in Centennial.
Much of the rest of the investigation was, again, based off the thousands of text messages taken from Johnson and Merwin's phones.
According to the affidavits, Johnson repeatedly subverted the Drug Court's urinalysis requirements for Merwin, provided her with alcohol after tests, and informed her when probation officers would conduct home visits so she could drink undetected.
Throughout their relationship, Johnson also relayed to Merwin through text messages confidential information about law enforcement investigations and the names of several confidential informants, according to the affidavits.
In turn, Merwin texted her contacts in the local drug community the same information, according to the affidavits.
Prosecutors do not know whether Johnson knew Merwin was sharing the information, but it seems likely she actively hindered ongoing drug investigations, according to affidavits.
In one instance, Johnson provided Merwin with a laptop computer he took from the ACET office while it still contained files on drug investigations. The laptop also came with two CDs of surveillance footage from separate drug cases.
It's unclear if Merwin used information from the laptop, but she possessed it until investigators confiscated it from her apartment this month.
Text message conversations also show Merwin began abusing cocaine after she completed Drug Court in February, while she was still on probation for her distribution charge, as well as smoked methamphetamine at least once and took prescription pills, according to the affidavits.
Again, prosecutors are unsure whether Johnson knew of her drug use, but his information seems to have helped Merwin keep her actions and the actions of other drug offenders secret from law enforcement, according to affidavits.