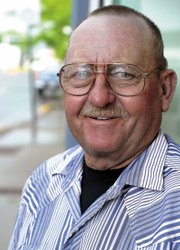 Craig — The Medal of Honor was awarded posthumously to Sgt. First Class Jared C. Monti.
Monti is the sixth service member to receive the highest honor since Sept. 11, 2001, and the first to receive the nation's highest military honor as a result of operations in Afghanistan.
Local news
Veterans of Foreign Wars Post 4265 is resuming senior dinners starting at 5 p.m. Oct. 5. Have questions? Call 824-7145.
Veterans Day is Nov. 11
The VFW is having a barbecue on this day. They will furnish brats, hot dogs hamburgers and Heroes potato salad. Please bring a covered dish. The festivities start at 4:30 p.m. and end at 6:30 p.m.
If anyone knows of a veteran returning from active duty, please contact the VFW so a hero's welcome can be planned for this person.
I am starting a photo album with pictures donated from veterans. If you have pictures of yourself or events that took place while on active duty, and want to donate them to the album, drop them by my office and I will display the album at functions dealing with the military.
Historical veteran/national dates
• Sept. 22, 1862 - President Abraham Lincoln issued the first Emancipation Proclamation
• Sept. 23,1875 - Billy the Kid arrested for the first time for stealing a basket of laundry.
Beware of phone fraud
Veterans Affairs is warning veterans not to give credit card numbers over the phone to callers claiming to update VA prescription information. The callers are misrepresenting the VA to gain personal information over the phone. The scam involves people claiming that the VA recently changed procedures for dispensing prescriptions and asking for credit card numbers.
VA has not changed its processes for dispensing prescription medicines.
Veterans with questions about VA services should contact the nearest VA facility or call 1-877-222-8387.
Craig Telehealth Clinic reminder
The Craig Community Telehealth Clinic offers U.S. veterans state-of-the-art technology, as well as onsite nursing support and remote practitioner availability. The goal is to provide an extensive array of health care services to veterans in a setting that is accessible and professional. To appropriately plan and coordinate your visit, access to the clinic is by appointment only. The clinic cannot handle emergency needs. Flu shot walk-ins are still ongoing for veterans enrolled in the VAMC Healthcare system. Questions? Call 824-6721.
Tele-psych services now available
Veterans can now get tele-pysch services at the Craig VA Telehealth clinic. All they need to do is call 970-263-2824 to set up a follow-up appointment for their mental health visit to be done there. If there are any questions, contact Jayne Scribner at VAMC Grand Junction via phone or e-mail.
Her e-mail address is Jayne.Scribner@va.gov
For information on these programs and/or other veterans' benefits, call or stop in the Moffat County VSO office at 480 Barclay St. (west of the Bank of Colorado parking lot). Call 970-824-3246 or use the fax 970-824-7108. Our e-mail address is veterans@moffatcounty.net. The office is open from 8:30 a.m. to 12:30 p.m., Mondays through Thursdays. Other times can be arranged by appointment only. Bring a copy of your separation papers (DD-214) for application for VA programs and for filing at our office.