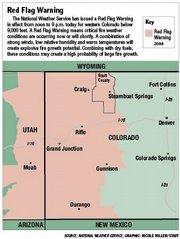 Steamboat Springs — Firefighters will return this morning to ensure a 1-acre wildfire in northern Routt County is fully extinguished. Crews battled the blaze all day Monday.
North Routt Fire Chief Bob Reilley said about 15 firefighters hiked into the Miller Creek Drainage, 1.5 miles past the end of Routt County Road 56 C north of Milner, to fight the fire. There were no buildings anywhere near the fire, he said.
Reilley thinks the fire is the result of a days-ago lightning strike that smoldered and was finally noticed Sunday.
"It just shows how dry the fuels really are," he said.
The fire was reported at 4:43 p.m. Sunday, but by the time it was located, it was too dark and dangerous for firefighters to enter the area, Reilley said. When firefighters reached the fire, Reilley said it was about a tenth of an acre in an area of fir and spruce trees covering ferns and grass.
"There are really dry fuels, and our concern is we get this taken care of before it gets any larger," he said Monday morning.
Fire crews left the area at about 7 p.m. Monday.
The dry fuels also prompted the National Weather Service to issue a red flag warning from noon to 9 p.m. today across almost all of western Colorado, including all of Routt County and part of northeast Utah.
The red flag warning covers all areas below 9,000 feet.
"Southwesterly winds will increase and become gusty as a strong upper-level system approaches from the west," the warning states. "Low-level moisture will also be limited. Critical wind and relative humidity conditions should develop (this) afternoon and evening with surface winds gusting in excess of 25 mph and the relative humidity dropping below 15 percent."
Temperatures today are expected to reach 76 degrees, with a low of 42 tonight, according to National Weather Service. The outlook also calls for a 50 percent chance of thunderstorms Wednesday, with a high of 60 degrees. There is a 60 percent chance of rain or snow Wednesday night with a low of 27 degrees, and the chance for snow will be 50 percent Thursday with a high of 41 degrees. The weather is expected to warm slightly at the end of the week, with a high of 46 degrees Friday under sunny skies.