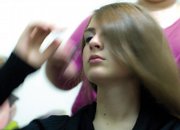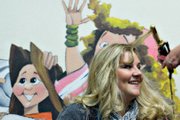 Craig — The smell of hairspray and a nervous energy filled the room as 19 models prepared to make their debut on the runway.
In impossibly high heels, glittered tops and decorative scarves, the models lined up behind a large Maurices sign and waited for the music to start.
"Rescues and Runways," the inaugural fashion show to raise money for the Humane Society of Moffat County and the Craig Animal Shelter, brought more than 75 people Saturday afternoon to Centennial Mall.
The event raised almost $1,000 through a silent auction and the sale of Humane Society calendars and T-shirts.
The crowd smiled and snapped photos as 19 local models strutted on a makeshift runway modeling Maurices designs from pajamas to evening wear.
But the motivation behind the show wasn't high fashion.
Instead, the inspiration came from a few homeless cats that the Humane Society brought to display at the event.
Margie Jones, an organizer of the event and a manager at Maurices, said it was important not to forget that animals can suffer during an economic recession, as well.
"The whole idea behind it is that with the economy, people have trouble taking care of their pets or keeping them," Jones said.
In past weeks, a large donation box in the store slowly filled with new dog collars, cat food and pet toys.
Jones said those items will be given to people who adopt pets to help them with the financial difficulties of bringing an animal into their home.
Those who donated or attended the fashion show were rewarded with coupons for Maurices and lower rates for adopting pets from the Craig Animal Shelter.
Pat Pearce, secretary of the Humane Society of Moffat County, said it was wonderful that the Maurices stores chose to focus their fundraising efforts on humane societies and the American Society for the Prevention of Cruelty to Animals.
"What a great project," Pearce said. "There are a lot of people who don't think about stray animals as a problem, and any opportunity we have to get the word out and show the public what we do is a good thing."
She said a major issue in Craig is the spaying and neutering of pets and that future clinics will focus on controlling the stray populations, as well as finding good homes for the animals.
Sally Kitzman, 18, a Maurices employee and one of the models, said there have been a lot of animals in the shelter recently and that she is glad to be able to help.
"We're just really excited to help the animals," she said as she made final adjustments on her casual, Southern-inspired outfit.
Kitzman said she wants to be a vet someday, but Saturday she was going to enjoy the runway.
She said some of the girls were nervous to walk the runway in front of a crowd, but she was more excited than scared.
"People are really here to look at the clothes," she said. "They can't judge you."
Jones said Maurices hopes to make the event annual and that the past few weeks have taught the employees a lot about putting on a successful fashion show and fundraiser.
"We've already learned so much, even though it's been a little crazy," she said. "We already know enough to make it even better next year."