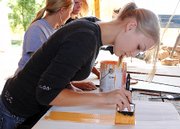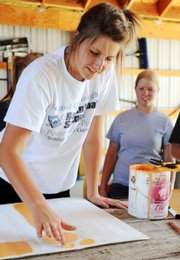 Hayden Homecoming week schedule
- Today: Camo day and ice cream floats in the lobby during lunch
- Tuesday: Career day; volleyball at West Grand at 6:30 p.m.
- Wednesday: Class colors day - seniors, black; juniors, lime green; sophomores, turquoise; freshmen, gold; Chili Cookoff from 5 to 7 p.m. in the Hayden High School cafeteria ($5 adults and $3 for children 12 and younger); and the Macho Volleyball Tournament from 7 to 8 p.m. in the high school gymnasium
- Thursday: Crazy glasses day; parent-sponsored team dinner from 6 to 7 p.m. in the high school cafeteria; Powderpuff football game at the high school football field; and the bonfire at 8:45 p.m.
- Friday: Orange and black day; "Battle of the Classes" from 8:15 to 11:30 a.m.; line up for parade and float judging at 12:45 p.m. at Hayden Valley Elementary School; parade at 1 p.m.; pep rally at 2 p.m. at the high school football field; volleyball vs. Paonia at 6 p.m., football vs. Paonia at 7:30 p.m.; and the Homecoming Dance from 10 p.m. to 1 a.m. in the high school cafeteria
Hayden — Hayden High School senior Brittany Turner painted flames on a piece of cardboard Sunday afternoon. On a different sign, she painted the word "it" with a tiger paw dotting the "i" and an upward-pointing arrow.
When members of the senior class eventually hold the signs together from their float Friday afternoon during the parade down Jefferson Avenue, they will depict this year's homecoming theme, "Fire It Up!"
"Last year, homecoming was really good. This year, we want it to be 10 times better," said Jarah Woodley, a senior who serves as a liaison between the class and student council. ": We want everyone to get pumped up for this year's homecoming."
About 20 of the school's more than 40 seniors gathered at various times Sunday at Vance and Sue Fulton's home in north Hayden to begin work on the senior class float.
When it's finished later this week, the float will have a mock fire pit to roast an eagle piñata in honor of its opponent's mascot - Paonia High School - in this week's volleyball and football games. The float also will include enough room for most of the senior class to stand on, holding signs as they float down Jefferson between 1 and 2 p.m. Friday.
Those not standing on the float will walk in front of it holding the senior class flag. Another four will represent the class as part of the homecoming royalty court.
The week's festivities also include a dress theme each day: Monday, camo; Tuesday, career; Wednesday, class colors; Thursday, crazy glasses; and Friday, orange and black.
Other activities during the week include a Chili Cookoff for parents and the boys Macho Volleyball Tournament on Wednesday, and the girls Powderpuff football game and a bonfire Thursday.
And before the parade Friday, the Battle of the Classes will commence with a dodgeball tournament and the Tiger Knowledge Bowl. Also included are the 6 p.m. volleyball game and 7:30 p.m. football game, both against Paonia. Homecoming week will culminate with the 10 p.m. dance.
The seniors said homecoming week was important because it allowed them to work together. And it's fun, they said.
But senior Maddison Kopsa said homecoming week was all about school spirit. She said even though the classes compete, they still support one another because they're all contributing to the week's festivities. And it's even bigger than that, she said.
"It brings out the whole community for the parade because everyone wants to see what the kids have been doing all week," she said.
Woodley said homecoming week is a pretty big deal in Hayden. She said the crowds at the volleyball and football games are larger, and seniors from the previous year return home for some of the activities.
With the exception of the Routt County Fair, some of the seniors said there were no other events as important.
"It's one of the biggest things in Hayden," senior Skyler Cless said.
- To reach Jack Weinstein, call 871-4203 or e-mail jweinstein@steamboatpilot.com