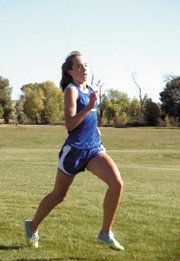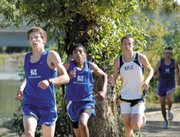 Results
Moffat County High School cross country results from Saturday's Moffat County Cross Country Invitational at Loudy-Simpson Park
Name: Time - Place
Girls
Maddy Jourgensen: 19:48 - 1
Eryn Leonard: 21:09 - 2
Nike Cleverly: 21:23 - 3
Bailey Hellander: 21:38 - 4
Sassy Murray: 22:29 - 5
Kelly Ciesco: 25:11 - 14
Jaycee McCoy: 25:46 - 17
Rose Howe: 26:57 - 21
Boys
Chris Zirkle: 16:54 - 1
Alfredo Lebron: 17:20 - 2
Alex McCoy: 17:33 - 3
Corey Wojtkiewicz: 18:01 - 6
Jarred Blevins: 19:01 - 12
Rene Molina: 19:07 - 15
Kye Adams: 19:55 - 20
Matt Hulstine:20:44 - 28
Team results
Team: Points
Boys
Moffat County:24
Rifle: 54
Uintah (Utah): 79
Steamboat Springs: 132
Rawlins (Wyo.): 164
Girls*
Moffat County: 15
Uintah: 48
*Although Steamboat Springs, Rifle and Rawlins, Wyo., had girls compete, none had a full team
Craig — Todd Trapp, Moffat County High School cross-country coach, knew his team was in line to excel.
A smaller meet in front of a home crowd meant one thing.
Domination.
Both the boys and girls teams finished first Saturday at the Moffat County Cross Country Invitational at Loudy-Simpson Park, with the girls claiming the top five spots and the boys taking the first three.
"Coming into this meet, we talked about (claiming first on both sides)," Trapp said. "We know we have a very strong team, and (Saturday) they came through."
The girls finished first with a perfect score of 15, as Maddy Jourgensen, Eryn Leonard, Nike Cleverly, Bailey Hellander and Sassy Murray finished in the top five spots, respectively.
Jourgensen, a junior, finished in 19 minutes and 48 seconds, which netted her a first-place finish.
"Trapp told us to stay in a pack in the first mile," she said. "After that, I started to pick it up."
Jourgensen said winning as a team was the best part of the meet.
"It was amazing," Jourgensen said. "I'm so proud of the girls, and I'm glad we did it all together."
Cleverly said the team staying together for the first portion of the race has a purpose.
"We stay together for the first mile, which looks kind of cool," she said. "But it shows off our team's togetherness."
Cleverly and Jourgensen also give out encouragement in the group.
"We talk to each other a lot," Cleverly said. "We try to help each other out as much as possible."
Cleverly said she had a home-field advantage.
"I knew when we were about to get to the soccer field, so I knew when to prepare," she said. "Running through the rough grass, I knew to conserve my energy."
Again, Moffat County's girls squad was anchored by its juniors and boosted by its freshmen.
Leonard and Hellander, both in their first year of running, finished second and fourth, respectively.
"They've been running very well all year," Trapp said. "By the third or fourth race, we expected them to be running that well. By the middle of the season, we expected them to be contributing."
The boys were almost as dominant as the girls, with Chris Zirkle, Alfredo Lebron and Alex McCoy taking the top three spots.
McCoy had the most exciting finish of the day, as he sprinted to the finish line to edge out Rifle High School's Dustin Ross for third place.
Zirkle was able to complete the course in a blistering 16 minutes and 54 seconds for a first-place finish.
"Everyone had a good day today," Zirkle said. "I think the home crowd helped for sure. It's nice to have everyone you know cheering you on."
Lebron, like Zirkle, said he received a boost from the home crowd.
"It was great just to have people supporting me," he said. "We normally don't get that on the road."
Lebron's second-place finish was in doubt, he said.
"I knew there was someone behind me," he said. "I wanted to take a peak behind me at every turn, but I couldn't."
Like the girls team, the boys stayed together for the beginning of the race.
Like Jourgensen, Zirkle used the first mile as a springboard.
"At the mile, I had a little surge," he said.
Running in his second Moffat County Cross Country Invitational, Zirkle found more success this year.
"Last year, I finished third," he said.
One of the reasons for Zirkle's jump has been his attitude, he said.
"I just told myself 'Keep running,'" he said. "When I was near the end, I kept thinking 'Don't give up, just keep chugging along.'"