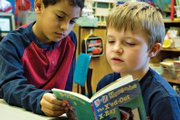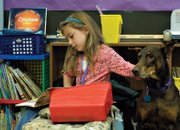 Classroom Spotlight
Each month, the newspaper will highlight a classroom in the Moffat County School District in its education section in the Saturday Morning Press. Suggestions should be e-mailed to education reporter Nicole Inglis at 875-1793.
Meet the teacher
Name: Tiffany Trevenen
Class: Second grade at East Elementary School
Years teaching: 20 years in the Moffat County School District
Philosophy: "You have to go slow to go fast."
Craig — It was reading time Thursday morning, and Room 21 at East Elementary School was buzzing quietly with low voices sounding out words.
Some of the second-graders sat in groups and read to one another, while others sat in a circle around their teacher, Tiffany Trevenen, taking turns reading a mystery story called "Face of the West."
In a low but firm voice, Trevenen asked her students to take a second look at words they mispronounced using techniques they had practiced.
"Use your crosscheck system," she told one student who confused "off" with "of." "That doesn't make sense, now does it?"
Trevenen is in her 20th year of teaching, but this year's class of 24 second-graders has been the toughest so far in her career, she said.
"It's a big group," Trevenen said. "They're a very talkative class, too. We spent a lot of time on management in the beginning because they have to be able to behave if they're going to learn. They have to know how to work independently and with a partner."
Some of the children read to themselves, like Chase Davis, who had chosen Trevenen's dog, Mercedes, as his reading partner.
Mercedes, a Doberman with a calm demeanor, visits the class when the students earn enough points by behaving well and walking quietly in the hallways.
Mercedes' presence is soothing to students but not disruptive, Trevenen said.
But there were a few distractions in the classroom Thursday.
After the "clean desk fairy" brought chocolate to the students who kept their areas neat, someone then came around and stole all of the chocolate.
There was also the addition of a new aide, Nancy, who helped special-needs students in the class who need one-on-one attention.
With the noise of a maintenance project coming through the walls, Trevenen at times felt the students' voices getting higher than she'd like.
But Trevenen's long career as a first- and second-grade teacher has left her with plenty of techniques to keep a large group of mixed abilities under control.
The students were wound up after recess and a snack of fruit gummies, so Trevenen told knock-knock jokes to the class to get them thinking and speaking in unison.
She also said it was important to switch activities every 20 minutes to keep their attention.
After recess, most of the class made their way over to a SMARTboard for a math lesson on numbers 45 through 59.
One by one, students walked up to the electronic whiteboard and dragged numbers with their fingers into the appropriate order, excited to be able to touch the board for the first time.
"You know, two weeks ago, you couldn't have done this," Trevenen said to the class. "You guys used an excellent thinking strategy. And you weren't distracted by the phone ringing or the drilling."
When the class went off to lunch, Trevenen took a deep breath.
She and first-grade teacher Jennifer Willems are also the technology coordinators for the school and answer calls from teachers to solve computer and SMARTboard problems during breaks.
But even with a busy schedule and sometimes-rowdy students, it's the children who keep her smiling and wanting to return year after year.
"I come here and forget about everything that's going on at home," she said. "They have my whole attention. There's not a single kid that I can't love."
While the rest of the class was making the rotation to the next activity, Chase stayed by his teacher's side at a reading table.
"What do I get if I'm good?" he asked, gazing up at Trevenen.
"You get to learn a lot and get really, really smart," she replied. "And, if you do what you're supposed to, you'll get lots of love and hugs from me."