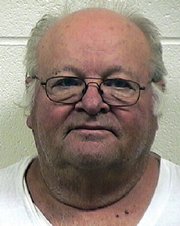 The Colorado State Public Defender's Office has taken the first step to appeal the Aug. 26 felony conviction of Terry Hankins.
Hankins was convicted of first degree murder, a Class 1 felony, and abuse of a corpse, a Class 2 misdemeanor, in connection with the death of his wife, Cynthia, in June 2007.
He was sentenced to life in prison without parole.
A representative from the Steamboat Springs public defender regional office, which handled the Hankins case in Moffat County District Court, said the office appeals nearly all felony convictions.
An official notice of appeal has not been filed on Hankins' behalf with the Colorado Court of Appeals.
However, Judge Michael O'Hara, who heard the case in August, signed a motion allowing the public defender's office to represent Hankins in his appeal.
The motion also states that Hankins thinks there are "meritorious grounds" for a judicial review of his conviction but does not state the reasons.
Attorneys from the Steamboat office will not represent Hankins during appeal.
The Public Defender Appellate Division will have that responsibility.
According to recorded confessions Hankins made to law enforcement, he choked his wife unconscious, hit her in the head with a crowbar and smothered her with a pillow.
He then dismembered her body and buried it on his gold claim north of town.
In some of the confessions, Hankins told law enforcement that Cynthia was regularly abusive and that she beat him with an electric fan before he choked her.
His attorneys claimed self-defense during the district court trial, citing Hankins' statements and Craig Police Department reports wherein Hankins alleged various abuses by Cynthia during their marriage.
Collin Smith can be reached at 875-1794 or cesmith@craigdailypress.com.