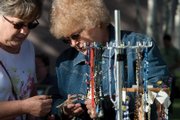 Two days after the first frost of fall, local growers and crafters displayed Thursday afternoon their vegetables, pies, jewelry and other goods for the last time of the year at Alice Pleasant Park.
The Downtown Business Association's third season of the Farmers Market is now closed.
Vendors said the season included increased sales and a higher volume of consumers than previous years.
"This year had much more participation from crafters and people in the community," said Marilyn Henderson, a 30-year Yampa Valley resident and second-year jewelry vendor. "It was a much better year than last year."
Other vendors shared a similar sentiment but were ready to move on to other seasonal occupations and hobbies.
Lois Yoder, along with her husband, Vernon, and their 10 children, offered a variety of breads, pickles, beans, jams, cookies, granola and numerous flavors of pie at their Farmers Market stand.
"I really enjoyed the market this summer," she said. "It was really successful, but I'm ready for it to end and move on from baking."
She is looking forward to spending time sewing and scrapbooking throughout the winter months.
Others, such as Joanne Petre, of Sunny Breeze Farm, looks to other areas to sell the farm's sheep-based goods and whey-fed pork now that the Craig market is closed for the year.
She said the farm ships sheep cheese and sheep-milk soap to restaurants and stores throughout the state.
Although variety fills the Craig Farmers Market with an array of crafted goods, edibles and personality, one constant remains the same.
As Bob Grubb put it, "Until global warming really kicks in, the end of September is a good time to call the market season's end."
Shawn McHugh can be reached at 875-1792, or smchugh@craigdailypress.com.