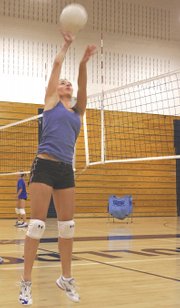 At a glance
Moffat County High School varsity volleyball team
Coach: Brianna Montgomery, fourth year
Starters:
Annie Sadvar
Jordan Maneotis
Lauren Roberts
Lindsey Yoast
Melissa Camilletti
Tasha Romney/Kelly Edington*
Libero - Jessica Mathews
* depending on whether Steamboat Springs or Moffat County serves the ball first
Keys to the game
Coach Montgomery's keys to victory
• Serve-receive. Moffat County needs to be ready when Steamboat Springs serves the ball.
• Serve. In addition, the Bulldogs need to be strong when serving to the Sailors.
• Hit well.
If you go
What: Moffat County High School volleyball versus Steamboat Springs High School
When: C-team starts at 4:30 p.m., junior varsity starts at 5:30 p.m. and varsity starts at 6:30 p.m. today
Where: Moffat County High School, 900 Finley lane
Cost: $5
For more information, call MCHS at 824-7036
A week after battling Glenwood Springs High School, Moffat County will turn its attention to conference-foe and longtime rival Steamboat Springs High School.
On Saturday, the Bulldogs fell, 3-1, to the Demons and will try to get back to their winning ways against the Sailors at 6:30 p.m. tonight at Moffat County High School.
But that is a tall task.
The Sailors are led by Colleen King, one of the Western Slope League's most dominant players.
Keeping King in check is just one of the Bulldogs' tasks, coach Brianna Montgomery said.
"We need to serve-receive and shut Colleen King down," she said. "She's an exceptional player, and we're going to try and do our best to block her."
Moffat County has some firepower of its own.
The team was able to score early against Glenwood Springs with seniors Jordan Maneotis, Lyndsey Yoast and Tasha Romney attacking the net.
Tonight, MCHS will need to have a potent offensive attack against a strong team, Montgomery said.
"In the four years I've coached here, Steamboat hasn't been weak one year," she said. Coach "Wendy Hall never fails to have a good team."
Moffat County's chance to win against Steamboat Springs also depends on how well it hits the ball, Montgomery said.
"If we can swing well, we'll be alright," she said. "Any team will have problems when we're swinging well."
But her team needs to ensure that it only battles the opponent and not itself, Montgomery said.
"They really need to keep thinking positive," she said. "That's one of the best qualities of this team, but they can't get down if they start to struggle."
Last week, Moffat County came out firing against Glenwood Springs in winning the first game at home.
The Demons were able to bounce back by winning the second and third games.
The fourth game appeared to be all Glenwood, as the Demons jumped in front of the Bulldogs, 8-0.
A ferocious comeback nearly tripped up Glenwood Springs, however, and MCHS trimmed the lead to 21-19 at one point.
Although the Demons won, the Bulldogs' never-say-die attitude is what Montgomery has come to expect from her team.
"This team has so many strengths," she said. "They're still figuring out where they want to be, and they're just starting to come out into their own. We need to believe in ourselves."
Montgomery said 2008 was a hard year for her team, but with a mix of seniors and young players, this year and next should be better for the Bulldogs.
"This is a rebuilding year, and we have strong leaders to pull us through," she said. "We're a young team, and a lot of the girls haven't had a lot of playing time in the past."
What the team may lack in experience it makes up with attitude, Montgomery said.
"It's just a great group of girls," she said. "Both on the court and off, this is one of the best groups I've had."
The venue and opponent should not affect her team's psyche, Montgomery said.
"I don't think we'll have a problem with them being overly excited," she said. "They play their best when they're excited."
Ben Bulkeley can be reached at 875-1795 or bbulkeley@craigdailypress.com.