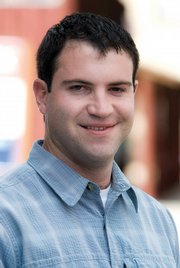 Photographer Shawn McHugh, a May graduate from Metropolitan State College in Denver, began working for the Craig Daily Press on Wednesday.
McHugh, 27, replaces Hans Hallgren, who worked for the newspaper for two years.
Hallgren's last day is Saturday; he is moving to Denver to be closer to family.
"The Daily Press has a strong tradition in photography, and we believe Shawn will continue that tradition," editor Joshua Roberts said. "From shooting portraits to community events to sports, as well as video production, Shawn separated himself from all other photography candidates in terms of ability. We think he's going to do great things here.
"Hans did a wonderful job for us, and we're sorry to lose him. However, we feel fortunate to pick up someone with Shawn's skill set."
McHugh's background includes working freelance for the Boulder Daily Camera and Mile High News. He's also been published in The Denver Post.
McHugh, originally from Alamosa, was a two-time all state quarterback at Alamosa High School. He enjoys traveling, snowboarding and spending time outdoors.
The Daily Press is his first full-time position out of college.
McHugh said he's excited about the opportunity at the Daily Press and looks forward to getting to know the Craig and Moffat County community.
"It's great to have the opportunity to experience an unknown part of Colorado," he said. "I'm excited to be back in a small town with a close-knit community."
Shawn McHugh can be reached at 875-1792, or smchugh@craigdailypress.com.