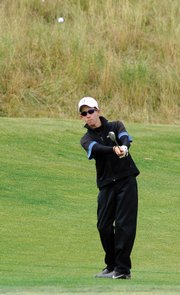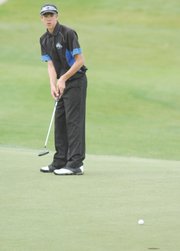 Scores
Individual scores from Tuesday's regional qualifying golf tournament in Steamboat Springs
Name/Score
Mark Dockstader/82
Parker King/84
Taylor Branstetter/89
Trey Jourgensen/89
With just three holes remaining Tuesday at Haymaker Golf Course in Steamboat Springs, Mark Dockstader was enjoying a solid game of golf with a score of 67.
The Moffat County High School junior, participating in his second regional qualifying tournament, had managed to keep pace with the best competition in 4A's Western Slope League as he made his way through the par-72 course.
Then hole 16 happened.
"I hit it decent at first," Dockstader said. "But my second shot went into the hazard, and I three-putted. That one bad hole cost me."
But instead of letting a shot count of eight on a par four chip away at him, Dockstader decided to keep swinging.
"There was no sense in giving up; I had to keep grinding it out," he said. "I was par my next hole and finished with a birdie."
Fighting back was a common theme among the Bulldogs, as they placed eighth out of 11 teams with a score of 255.
Montrose High School won the tournament with a score of 230.
Dockstader had the Bulldog's lowest score with an 82.
Every player on the team shot under 90, with Parker King, 84, Taylor Branstetter, 89, and Trey Jourgensen, 89, all chipping in.
Hoping to become the first Moffat County golfer to qualify for state in more than 10 years, Dockstader needed three extra holes.
Pitted against Summit High School's Brady Sandsmark, the pair played a three-hole playoff to determine who would be the second alternate on the 13-player team.
Dockstader eventually won, which was his second honor in two days.
On Monday, he was named to the all-conference second team, which is awarded to the top 10 players in division 4A's Western Slope League.
Dockstader said the honor surprised him.
"It was one of my goals for the season," he said. "I was pretty happy to get it."
Being at his second regional tournament, Dockstader said he knew what to expect.
"I played a lot better this year," he said. "Last year, I had four or five really bad holes. This year was just more competitive - an 82 would have qualified me for state last year."
This year, the state final is Oct. 5 at Highlands Ranch Golf Club in Denver.
As this year comes to a close, Dockstader said he already is preparing for his senior season.
"I need to play in more tournaments over the summer," he said. "Sometimes, the nervousness gets to me. Playing in more competitions would get me ready, and I need to keep working hard."
Coach Ken Harjes said he hoped one player would have been one of the top-nine at the tournament, but he was disappointed for another reason.
"I'm disappointed because the kids are," he said. "They put in so much work this year, and I know they're upset. They shouldn't be, because they had a great year."
Harjes said between the continued growth of his young team - Jourgensen, King and Dockstader all return for next year - and the help of seniors Greg Blackstun, Branstetter, Alex McKey and Ty DeGuelle made the season special.
"The big thing is, some of our younger guys got in some experience," Harjes said. "I'm just disappointed Taylor never got a chance, because of all the hard work he put in."
Jourgensen was one of the young players gaining experience.
But he soon found his game was reflecting the weather.
The sophomore said he started off cool in the beginning of the day, but around noon, when the sun came out, he was a different golfer.
"I started playing my best around the middle of the day," he said. "The weather may have affected me, but maybe not."
Although he was four strokes off his season best score of 85, Jourgensen said he was happy to be playing in a pressure-filled tournament.
"It's pretty cool - nerve-wracking, but exciting," he said.
King had a day of almosts.
Several times, he banked his putts perfectly only to watch them ricochet off the lid of the cup.
Other times, well-placed drives died in divots and holes in the course.
Despite some bad luck, however, he was pleased.
"An 84 isn't bad," he said. "I had a couple of doubles and triples, but overall I was excited, I think I did really good."
Like his teammates, King plans on putting in extra work over the summer.
"I have some things to work on," he said. "I need to work on my putting."
One player who won't be around for next year's run will be Branstetter, a senior from Hayden.
Although his score or 89 was solid, he was hoping for more in his last high school golf meet.
"I just couldn't put anything together," he said. "I wasn't knocking them down. They would roll but wouldn't fall."
The regionals held few surprises for Branstetter, who had been there for the past three years.
"I wanted to play better, but it just didn't happen," he said.
Although he doesn't know which college he's going to next fall, Branstetter will remain a Moffat County fan.
"I wished them all good luck for next year," he said. "They're young, but they are going to be good."
Ben Bulkeley can be reached at 875-1795 or bbulkeley@craigdailypress.com.