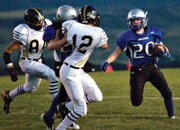 Craig — Moffat County High School sophomore Mason Updike is used to mimicking other team's defenses.
The fullback spends large parts of his week imitating another team's defense, so the Moffat County varsity football offense knows what it's up against.
His task last week was to run Battle Mountain's defense in preparation of Friday night's game.
But, come game time, he took a turn running all over it.
"I thought I would get in, get some playing time and prepare for next year," he said. "I didn't think I was going to have the game I did."
That game, which was a 45-7 Moffat County win, included 21 rushing attempts for Updike, resulting in 144 yards, and a catch for 20 yards to keep the chains moving in the fourth quarter.
With senior fullback Jasen Kettle cooking Battle Mountain's defense, Updike figured he could just sit back and watch the show.
"The way he was running, I was thinking 'This is going to be over quickly,'" Updike said. "I was just going to watch Kettle run."
And run Kettle did, with 207 yards on only 10 carries, with two touchdowns off runs of 69 and 79 yards.
But after a shoulder injury sidelined Kettle, it was Updike's turn to burn.
"I thought I was going to be a decoy for the other backs," he said. "My first carry, I wasn't really ready. I thought I was going to get hit, so I had my head down. I was just trying to do my best, and not fumble."
Whatever mistakes Updike may have made his first carry, he quickly fixed.
And that's what Kip Hafey, MCHS head coach, expected from his young fullback.
"I went over to him on the sideline and asked if he was ready," Hafey said. "I said 'You better be because you're getting the ball.'"
Updike's first touchdown run, a 53-yard bruiser to the right, was a result of the offensive line and lead blockers, he said.
"The only thing in sight were blue jerseys," he said. "I saw a lane open up and turned on the burners."
Updike was quick to credit his success to his teammates.
"The offensive line was huge," he said. "They kept opening huge holes for me to run through."
Hafey said the blockers up front helped keep the momentum going.
"We have a great O-line who have worked their tails off," he said. "We have some good running backs, and (Updike) rose to the occasion."
Updike had suited up for the varsity squad before but never had the amount of playing time he had in the game against Battle Mountain.
"Normally, I'm just on kick-off and kick-return," he said.
While Kettle might be the fastest player on the team, Updike's style of running is in tune with Moffat County's smash-mouth offense.
"Power," he said about his running style. "I'm not the fastest guy on the field, but I'm going to go out and hit somebody."
Having another versatile back adds something valuable to Hafey's run-heavy offensive playbook.
"It's great to have that much depth, especially for a school our size," Hafey said. "Mason's one of those guys who has put in the work, and its starting to pay off."
Updike, who spent a large portion of the summer in the weight room and on the track lifting tractor tires in an old-school strengthening program, agreed with his coach.
"I dedicated my summer to nothing but football," he said. "I'm just trying to keep getting better."
With seniors Braeden Sullivan and Nathan Tomlin, plus the healthy returns of Pablo Salcido and Kettle, Updike said he doesn't expect to get too many more touches.
"But," he added, "I'll be ready whenever they need me."