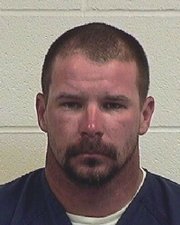 Craig — A man accused of assaulting an elderly couple Aug. 30 at their home in Craig is expected to make his second appearance at 2 p.m. today in Moffat County Court.
James Lee, 31, is charged with first-degree assault, a Class 2 felony, as well as two counts of second-degree assault, first-degree burglary and second-degree burglary, all Class 3 felonies.
The appearance is scheduled as a status conference, though Jeremy Snow, deputy district attorney for the 14th Judicial District Attorney's Office, said he expects Judge Sandra Gardner will rule on a defense motion to reduce Lee's bond.
Lee was placed in custody at Moffat County Jail after his arrest on $50,000 bond. He was still in custody as of Monday evening.
According to a warrantless arrest affidavit filed by the Craig Police Department, Lee was arrested at the home of Howard and Sharon Salman in the 400 block of West Sixth Street after Sharon made a 911 call to law enforcement.
Sharon told police Lee came to their home and demanded to be let in because he said it was his home.
Lee then assaulted her husband, Howard, and didn't stop until the police arrived, Sharon said.
The affidavit states Lee told police he was at the home because a local real estate agent invited him to a party there and that he then pointed to a "for sale" sign with the agent's picture on it in the Salmans' yard.
The affidavit does not mention alcohol or drugs being involved in the incident.