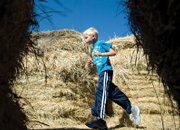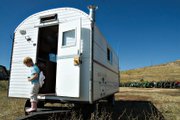 It was warmer in the sheep wagon than anywhere else.
As a cool rain came down Sunday on the grounds of the Wyman Museum, 6-year-old Chloe Villard sat atop the bed inside her family's sheep wagon, heated by a wood-burning stove.
She talked about what life would be like if she, like sheepherders still do, lived in a sheep wagon.
"I could cook Ramen on the stove," she said. "And I would keep my food there in the pantry. I would sleep here with my mom, and my sister would sleep on that bed, and we would tell ghost stories."
The wagon belonged to the Villard Ranch and was featured at the 11th annual Craig Sheep Wagon Days, which took place during the weekend.
Several of the small trailers were parked outside the Wyman Museum as a reminder of the life of a sheepherder and the relevance of the sheep industry today.
The event, which organizer Melody Villard said is meant to raise awareness of the local sheep industry, featured activities for people of all ages.
On Thursday and Friday, Villard provided educational workshops for local school field trips.
Saturday and Sunday offered demonstrations from butter churning to sheep dogs and helicopter rides for those brave enough to leave the ground.
To Villard, who is a third-generation sheep rancher, raising awareness is vital to the sheep ranching industry.
"We're getting more and more generations away from agriculture," Villard said. "A lot of kids don't know that food doesn't come from the grocery store and butter comes from milk. We really want to bring awareness to children about agriculture."
Colorado Northwestern Community College and the Museum of Northwest Colorado began the event in 1999. But, four years ago, when it looked like the event would be canceled, Villard stepped in to save it.
"I was worried if they canceled it for one year, it would never come back," she said. "So I took over from there."
The sun was out Saturday, and families wandered in and out of the sheep wagons and visited the food stand to try lamb.
Inside the main tent, children with sheep painted on their faces practiced pounding their own designs into pieces of leather.
As for the cramped quarters of the sheep wagons, Villard said children should learn about the simple, yet rewarding way of life.
On her 13,000-acre ranch, she has one to three herders living in sheep wagons at any given time.
Usually from Peru or Mexico, the sheepherders spend their days outside with the sheep and working dogs, and their nights cooking food on a simple, wood stove.
The oldest sheep wagon at the festival, built in 1937, was in use until this year.
As for Chloe, she still sleeps in the wagon sometimes when her grandmother visits, and will watch her family's sheep get sheared each year.
"It's important to plant that interest in children and reinforce it," Villard said. "We have such a rich history here, and we don't want to lose it."
Nicole Inglis can be reached at 875-1793, or ninglis@craigdailypress.com.