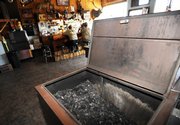 For stockings and stoves, Routt County residents will be turning to Craig this winter after Twentymile Coal Co. contracted out its home coal distribution to Bower Brothers Construction.
Owner Bud Bower said that after more than 20 years of working closely with the mine, the construction company will begin distributing coal to individuals at the Northwest Ready Mix site on the west side of Craig.
Bower said he hopes to have 1-inch and 3-inch coal available by the first weekend of October. After that, the site will be open two to three days a week, depending on demand. Bower said he will soon set up a phone system for residents to call for details on hours, pricing and availability.
"We believe the arrangement will create convenient access for residents to obtain coal for home heating. It also allows Twentymile to focus on its core business of mining," Peabody Energy spokeswoman Beth Sutton wrote in an e-mail. "We have made coal available as a community service for a number of years because so many area residents rely on coal for home heating. Working through a third party creates efficiencies and allows us to focus on our core business while still ensuring that coal is available for those who may need it."
Peabody Energy owns Twentymile Coal Co.
Bower said he will talk to the mine operators to determine the price of the coal. Bower Brothers will have loading equipment on-site, and Bower said the company will make large deliveries if requested.
An untold number of local residents, primarily in rural areas, continue to use coal as a primary source of heat. There are no figures available for the number of residents who rely on coal, but in Oak Creek, where there is no central gas system, residents often use it in combination with other sources of heat such as propane and wood.
Oak Creek resident Sandy Wisecup said she's used coal her whole life and is currently installing a new coal-burning stove to replace an older model.
Wisecup said she continues to use coal, "because I like the heat and I can afford it."
Wisecup said she uses a ton of coal per month in the winter in coal/wood cookstoves.
Her son, Tom Wisecup, said he has a propane system installed in his home but prefers to use the coal because it's much cheaper.
"I've got propane but it leaks, so if I do that, it's like $300 a month or better," he said.
Tom Wisecup said he uses seven to 10 tons of coal per winter and plans to continue using it as long as he can buy it.
Permits
Mine spokesman Steve Callahan said that more information about coal for home use could be available in a week. He said there are some "permitting issues," but declined to comment further.
Bower said the mine may be moving the coal distribution off-site because of regulation and liability reasons.
Mine Safety & Health Administration Assistant District Manager Bill Knepp said there are no new regulations, and minimal training would be required for anyone driving onto the mine site to purchase coal.
"Our only regulations would be basically: Stay in the truck and don't get out on the property," he said.
He said drivers also would have to be aware of the traffic patterns in the area, but there are no restrictions on residents driving onto mine property.
Routt County Planning Director Chad Phillips said permits issued by the county for the mine are for the life of the mine, and there are no new regulations that would prohibit residents from picking up coal at the site. But he suggested that insurance concerns may be an issue.
"I don't think anything we've got in our books would be a roadblock to them continuing," he said.
Bower said it's his understanding that Bower Brothers will be the only distributor of Twentymile coal for individuals. He said he will place ads and signs in the coming week to give more information.