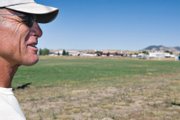 When it comes to Bill Sawer and soccer fields, it's been a story of almosts.
He almost built one in Steamboat Springs in the 1980s, and he almost had one for good before watching it be removed in the name of progress a few years later.
Now 66, Sawer has decided to get his hands dirty.
Literally.
Work began in June to turn two acres of his land south of Craig into a soccer field, and it's Sawer who's doing the work.
A man who loves what he calls "the world's sport," Sawer said the soccer field project is his way of giving something back.
"It's been in my head for 30 years," he said. "It's something that I've tried to do before but couldn't."
Now, several months into the project, there are three fields - a practice field, a sand futsal field and a game field.
There are goal posts and benches for teams and a sloping lawn along the sidelines for fans to set up chairs.
By his estimates, Sawer has spent $40,000 on the fields, but for him, it truly has been a labor of love.
Sawer, who was raised in Michigan, first was introduced to soccer in the 1970s while living in Steamboat.
After signing on with the Steamboat Springs men's team as a goalkeeper, Sawer decided he wanted to be better.
"I wish I had been introduced to the game earlier," he said. "I was 27 when I first played."
Seeking to improve his game, Sawer went abroad.
"If you want to get better, you need to surround yourself with the best," he said. "In '79, I spent six months in England."
Sawer's soccer trips have taken him to Jamaica, Bolivia, Italy, Holland, Spain, Australia, Fiji, New Zealand and Mexico.
"Everywhere I went, I was the worst player," he said. "But you get better."
Eventually, he moved to the coaching side of the game, when he took over the soccer team at Colorado Mountain College in Steamboat.
He still coaches youths at the Boys & Girls Club of Craig, and in 2011, he plans to coach a coed team from Colorado Northwestern Community College in Craig.
Sawer estimates the number of players he has coached in his career is more than 1,000, as he has taught 67 teams in a 30-year career.
Sawer's expertise with landscaping came when he was employed as a groundskeeper for CMC.
"They sent me to Denver for classes," he said. "I kept the notes I took back then (in 1991), and that's how I've been able to take care of the field."
Sawer's first foray into building fields came when he was coaching the CMC soccer team.
After much time and effort had been spent turning an empty and weed-infested field into a playable surface, news came down.
"They needed a space to build a new dorm," Sawer said. "Because the college is on the side of a hill, it's hard to find a flat space. They took a bulldozer to the field - tore up the sprinkler system - and I was crying because there had been so much back-breaking work.
"I decided after that, that if I was going to go through something like that again, I was going to own the field."
In 1993, Sawer purchased 30 acres of land south of First Street.
His original intent was to build five fields in Craig because the land would have cost too much in Steamboat Springs.
After retiring from his post as CMC groundskeeper, Sawer built a cabin on his 30 acres in Craig, and began thinking about a field.
While all around his property parcels of land are being snatched up and developed, "the little green gem in the desert," as he likes to call it, will stay the same.
"Vacant lots around town won't stay that way for long," he said. "More and more houses are being built. And asphalt isn't pretty - it hurts when you fall down on that."
Yampa Valley Soccer League president Isidro Quezada said the adult league has needed space for a while.
Even with an expansion at Loudy-Simpson, there wasn't enough room.
"We always need more fields," Quezada said. "There are teams that play here from Craig and Steamboat."
With more than 250 players participating in the league, space is at a premium, Quezada said.
Games are played at Woodbury Sports Complex and Loudy-Simpson, but between Craig Parks and Recreation Doak Walker Football and Moffat County High School boys varsity soccer, there aren't a lot of opportunities.
"Sometimes, we struggle to get a field," Quezada said. "My first reaction after hearing about the new field? I was happy. Soccer is getting pretty big in Craig, and right now, we don't have enough fields."
Quezada said he has known Sawer since he moved from Steamboat to Craig.
Predictably, the two men met because of a common love of the game.
The money for the fields came from Sawer selling a piece of his property to MJK Sales and Hardware.
The money thus far has been used to build a fence, purchase equipment, install a well and sprinkler system and build a goal-sized cement wall for training exercises.
Field maintenance requires watering, mowing the grass, aerating the surface and waiting for herds of deer and antelope to fertilize it.
"I'm still waiting for my first electric bill," Sawer said. "The water all comes from the well, which is cheaper than the city water."
Building the fields has been a welcome distraction for Sawer.
"It keeps me outside," he said. "If I wasn't doing this, I might be inside on the couch."
Sawer said his motive for building the fields was to teach young players the skills needed to excel, and for the community to have a place to play.
"I want to turn this property into something positive," he said. "I never intended to make any money on this field. It's been more about keeping kids out of trouble."
Sawer's plans for the fields after he dies are straight-forward.
"I want it to go to the American Youth Soccer Association," he said. "In a perfect world, it would become a training facility for the U.S. Team. I know they have a facility in Colorado Springs, but it's on Astroturf, and they should practice at high altitude."
But Sawer said he's willing to make concessions, so long as the field stays open.
"Even if it's open space, I'll be happy," he said. "Just so long as it isn't asphalt."
Sawer always will be at the fields, even after the space has changed hands.
"I fully plan on having my ashes spread out over midfield," he said. "That way, I can always watch."