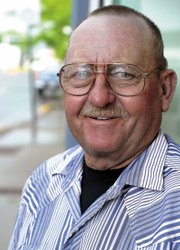 I just received new brochures on Agent Orange review and Gulf War review. Anyone interested, come in to my office.
Bill Harding, former Veterans Service Officer for Moffat County, is working on the honor flight scheduled for May 2010. World War II vets who have not been on one, contact me and I will place you on the list.
I am still looking for drivers for the veterans van to and from Grand Junction. This is a volunteer service, and drivers only have to make he trip periodically. You will be doing a great service for the veterans who cannot drive.
Historical Veteran/National dates
Sept 13, 1814 - Star Spangled Banner written and later set to music. The song later became the national anthem in 1931.
Sept 14, 1901 - President William McKinley dies after being shot by a deranged anarchist.
Sept 17, 1862 - Battle of Antietam, the bloodiest one-day battle of the Civil War.
For information on these programs and/or other veterans' benefits, call or stop in the Moffat County VSO office at 480 Barclay St. (west of the Bank of Colorado parking lot).
Call 970-824-3246 or use the fax 970-824-7108. Our e-mail address is veterans@moffatcounty.net. The office is open from 8:30 a.m. to 12:30 p.m., Monday through Thursday. Other times can be arranged by appointment only.
Bring a copy of your separation papers (DD-214) for application for VA programs and for filing at our office.