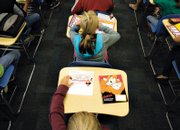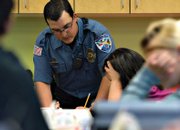 Two years ago, 12-year-old Logan Roberts had to make a decision.
His best friend invited him over to go for a ride on his new snowmobile, something that sounded like a lot of fun.
There was one problem: His friend's parents weren't home at the time.
If he went, he might get into trouble with his parents or potentially get involved in a dangerous situation.
"It was really hard to say no," Roberts said. "He was my best friend."
But he did say no, a skill that is reinforced in the Drug Abuse Resistance Education program he participated in as a sixth-grader.
Now in seventh grade, and a proud D.A.R.E. graduate, he said he learned a lot about peer pressure and how to make good decisions.
The program, which encourages students to say no to drugs and make good life decisions, previously was run only in sixth-grade classes when that grade level was at Craig Intermediate School, which is now Sandrock Elementary School.
It was expanded this year to fifth-graders at all four elementary schools so D.A.R.E. could reach out to younger students before they attend middle school, which now includes the sixth grade.
Moffat County Sheriff's Office deputy Ryan Hess is one of three D.A.R.E. teachers from local law enforcement. He said getting the message out before students hit middle school is vital to drug use prevention.
"That's when the drug use really starts, is in middle school," he said. "But it's not all about, 'Drugs are bad, if you do them you'll die.' D.A.R.E. is really focused on the decision making model and finding alternatives to that behavior."
Hess said the program's expansion was spread out through the school year and will not cost any more money than in previous years.
In Kristin Ingalls' sixth-grade health class Wednesday at Craig Middle School, 25 students excitedly wrote on their new nametags, in awe of all of the gadgets on their D.A.R.E. officers' belts.
They pointed at the guns and Tasers, asking what it would feel like and if they could be handcuffed.
These students already entered middle school before starting D.A.R.E., something the program tries to avoid.
Next year, the program will be provided to fifth- and possibly eighth- graders, in an attempt to pinpoint the transition periods in which students are most susceptible to making bad decisions.
"You don't have to scare them," Hess said. "We just have to show them that not everyone is doing (drugs) and that there are better things to do with their time. We also focus a lot on building friendships and just positive interaction with the kids."
At the front of Ingalls' class, Craig Police officer Tony Gianinetti taught his first D.A.R.E. lesson Wednesday. He asked the class to guess what percentage of eighth-graders smoked cigarettes.
The guesses ranged anywhere from 5 to 100. Some of the sixth-graders were sure that many of their older peers used tobacco.
Sixth-grader Bailey Baker guessed that half of eighth-graders smoked regularly.
"I think it's because half of the eighth-graders aren't smart," she said. "And they do pot."
But Gianinetti surprised the class when he told them only 7 percent of eighth-graders in the country smoke cigarettes.
Kristyn Wardlow, 11, sat in the front row, taking it all in.
But when it came to cigarettes, she already had her mind made up.
"My parents used to smoke, but my mom quit because she was having shortness of breath," she said. "She helped my dad quit because she would throw away all of his cigarettes. They told me it was bad for my health."
Wardlow said she wasn't sure what else she was going to learn in her 16 weeks of D.A.R.E., other than how to say no to drugs, but she thinks it's going to be fun.
Ingalls, who is a new teacher to the district, said she heard there was more of a drug problem in Craig than in her hometown of Steamboat Springs, which cut its D.A.R.E. program two years ago.
"I think it's important at a young age to get them thinking about the consequences of their decisions," she said.
Ingalls went through the D.A.R.E. program herself, and recalled it being fun.
"I think they get something out of it," she said. "I don't think all of them do, but if anything, it will make them think twice."
Nicole Inglis can be reached at 875-1793, or ninglis@craigdailypress.com