Document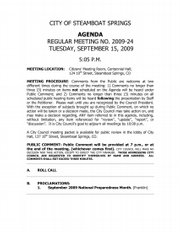 Meeting agenda
5 p.m. Council convenes as the Liquor License Authority to review license requests
5:05 p.m. Summer Marketing Task Force update; discussion of a draft ordinance regulating medical marijuana dispensaries; New Victory Highway/West Acres Mobile Home Park update
6 p.m. Motions to submit grant applications; resolution approving the Steamboat Springs Local Marketing District operating plan and budget; second and final reading of an ordinance amending the city's affordable housing ordinance
7 p.m. Public comment; Planning Commission referrals; City Council and staff reports
If you go
What: Steamboat Springs City Council meeting
When: 5 p.m. today
Where: Centennial Hall, 124 10th St.
Call: City offices at 879-2060 for more information; call 871-7070 to listen live to City Council meetings
Online: Visit www.steamboatpilo... to download materials for tonight's meeting.
Steamboat Springs — Steamboat Springs City Council will take its first look today at an ordinance regulating medical marijuana dispensaries.
Under the draft ordinance, medical marijuana dispensaries would be allowed as a permitted use, with conditions, in some commercial and industrial zone districts, but they could not be located on the pedestrian level on Lincoln Avenue or Yampa Street.
Dispensaries are popping up in several Western Slope communities, and the ordinance being considered by council was spurred by several inquiries to the city by people hoping to open dispensaries in Steamboat. The city enacted a 90-day moratorium on such businesses last month, but not before two dispensaries opened their doors.
The ordinance is not up for a first reading today, but staff members will solicit council members' feedback on the draft. First and final readings of the ordinance are expected no later than Oct. 20 and Nov. 3, respectively.
The draft ordinance also would prevent dispensaries from locating within one mile of each other; locating within 1,000 feet of any school, park, playground, licensed child care facility, educational institution or correctional facility; operating as a home occupation; and allowing the use of marijuana or the possession of weapons on premises. Dispensaries would be required to meet certain security requirements, operate on an appointment-only basis, operate between the hours of 8 a.m. and 5 p.m., and follow certain advertising restrictions.
Ryan Fisher is co-owner of Rocky Mountain Remedies, one of the two dispensaries that beat the moratorium. Assistant City Attorney Dan Foote said the ordinance was partially built on regulations voluntarily suggested by Fisher and his partner, but Fisher said some of the rules are too onerous.
Fisher said he doesn't think dispensaries should be treated any differently than a pharmacy. For example, Fisher said the restriction on hours is excessive because some people work from 8 a.m. to 5 p.m.
"I think that's unreasonable," Fisher said. "We're not looking to be open late, but you've got to have some hours to accommodate people."
Rocky Mountain Remedies and the other dispensary that beat the moratorium won't be subject to the ordinance, Foote said, because its rules would be made part of a permit that neither was required to obtain before opening.
Councilman Jon Quinn said the regulation prohibiting dispensaries within a mile of each other might be excessive.
"It's a small town, you know," Quinn said. "In the case of Steamboat, I'm not sure the net effect of that is what we're looking for."
Quinn said other provisions of the ordinance were appropriate, including one that would prevent dispensaries from using the word "marijuana" or depictions of the marijuana plant on signs or in other advertisements.
"You shouldn't be advertising to people walking down the street," Quinn said.
Also today, council will meet with residents of the West Acres Mobile Home Park who are fighting the planned construction of road through their dedicated greenbelts and are involved in a legal battle with the city to prevent it or receive $400,000 in compensation.
Residents say the city's condemnation of the property and construction of the road violates the public trust doctrine. City officials argue that they negotiated the road alignment with the mobile home park's owner and that the residents have no legal standing in the matter.