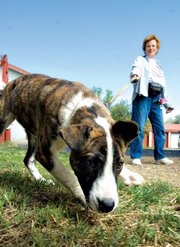 Craig resident Wanda Brown made her way slowly around the room of cats in the Craig Animal Shelter. Some batted paws at her fingers, some eyed her from the backs of their cages while others, like the Persian cat Zelda, meowed for attention.
At a pet adoption event Saturday, Brown was searching for a companion for her mother, who has Alzheimer's disease.
Her mother had a small lap dog, but the dog recently had bitten someone, and Brown wanted to get her a new companion.
"I just really want to get her some company," Brown said. "But I'm the youngest of seven, so I have to get some authorization if I'm going to get her one."
At Saturday's event, cats and dogs up for adoption were displayed outdoors for potential owners in an attempt to raise awareness and find "forever homes" for the animals.
The shelter offered discounted rates Saturday, which prompted at least three adoptions.
Brown used to work at the shelter as her first job out of high school, so she knows the value of adopting pets.
"I don't want them to have to go down just because someone can't take care of them," she said.
And as someone with two dogs, she knows adopting a pet could benefit her mother as well as the animal.
"She did great with cats," Brown said. "I think she was doing really well with it. I just want her to enjoy what I have. I couldn't live my life without animals."
Since last week, several animals were taken home, either by their owners who discovered their dogs were being held at the shelter or by people who had found a perfect match.
Coco, a dachshund, Patti, a pit bull, and Tiny, a corgi, all were adopted before the event, something that encouraged Humane Society treasurer Carol Scott.
"That tells me that people were motivated enough to pay the full price," Scott said. "They didn't even want to wait until Saturday to get the discount."
Saturday, each of the available dogs were taken for walks around the property.
Pippi, a small, energetic pit bull mix, couldn't contain herself when she was let out of her cage. She pulled on the leash of the volunteer who was walking her and launched herself at other dogs to playfully tussle in the dirt.
"She's a handful," Scott said. "She's going to need to go somewhere where she can run."
But just a few minutes later, the young pit bull was hanging off the arms of Clint Markham, of Craig.
She seemed to have exhausted her energy and found the perfect home.
Markham will take Pippi home to a house with a yard, another pit bull and a border collie mix.
She'll also learn a bit of discipline, Markham said.
"In two to three weeks she'll be fine," he said. "You just have to be firm with them."
He said he was drawn to Pippi because he loves his pit bull and the characteristics of the breed.
"And I love her color," he said. "I just love pit bulls."
Scooby, a tawny pit bull who has become a favorite of the shelter workers, also found hope for his future.
Having been at the shelter the longest of any of the dogs, the shelter found him a foster home in New Castle, with the help of the Animal Rescue Foundation.
He will be missed at the shelter, Scott said, but his foster home might have more luck placing him in a good home.
Despite all the success stories from the week, Scott said, the cycle is never ending.
Just four days earlier, four blue heeler puppies were found by the side of the road. One of them died, but the other three were nursed back to health by the Bear Creek Animal Hospital.
One of the puppies found a home early Saturday morning, while the other two still are waiting for their new owner to walk through the door.
Nicole Inglis can be reached at 875-1793, or ninglis@craigdailypress.com