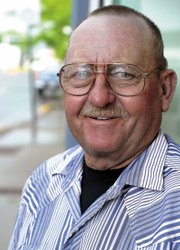 This office would like to recruit some drivers for the veterans van.
It is a volunteer job, and if anyone is interested, contact me and I will fill out the paperwork and place you on the list.
The job entails picking up veterans on their appointment date, driving to Grand Junction and then returning here.
Some veterans eligible for parks, lands passes
Disabled Veterans can apply for a National Parks pass and Federal recreational Lands Pass.
The passes, which are free of charge to disabled veterans, grants access to National Parks and provides many other benefits to Americans with disabilities.
Locations for an appropriate site can be obtained from the following places:
• Bureau of Land Management
• Bureau of Reclamation
• Fish and Wildlife Service
• Forest Service
• National Park Service
Priority Group 8 rule to change until December
The U.S. Department of Veterans Affairs has reopened enrollment in Priority Group 8 with the following rule change, which will remain in effect only until December 2009.
The previous requirement that a veteran have less than $80,000 in assets has been discontinued. The $80,000 in assets is used only to determine co-pay requirements but not for enrollment.
Contact me for more information.
Historical dates:
• Sept. 6, 1915: First tank comes off assembly line. It was named "Little Willie" and weighed 14 tons. It got stuck in trenches and went over rough terrain at 2 miles per hour, if it didn't tip over backwards.
• Sept. 7, 1813: U.S. gets name Uncle Sam. Samuel Wilson supplied meat to the U.S. Army during the War of 1812.
Barrels were stamped U.S. for United States, but soldiers started calling it Uncle Sam's. Newspapers picked up the nickname, and it then gained acceptance as the nickname for the U.S government.
• Sept. 11, 2001: Twin towers in New York hit by hijacked 767s. The Pentagon also was hit.
Community Telehealth Clinic reminders
The Craig Community Telehealth Clinic offers U.S. veterans state-of-the-art technology as well as onsite nursing support and remote practitioner availability. The goal is to provide an extensive array of health care services to veterans in a setting that is accessible and professional. To appropriately plan and coordinate your visit, access to the clinic is by appointment only. The clinic cannot handle emergency needs. Flu shot walk-ins are still on-going for veterans currently enrolled in the VAMC Healthcare system. Call 824-6721 for more information.
Tele-psych services now available at clinic
Veterans now can get tele-pysch services at the Craig VA Telehealth clinic. All they need to do is call 970-263-2824 to set up a follow-up appointment for their mental health visit to be done there. If there are any questions, contact Jayne Scribner at VAMC Grand Junction via phone or e-mail.
Her e-mail address is Jayne.Scribner@va.gov
For information on these programs and/or other veterans' benefits, call or stop in the Moffat County VSO office at 480 Barclay St. (west of the Bank of Colorado parking lot). Call 824-3246 or fax 824-7108. Our e-mail address is veterans@moffatcounty.net. The office is open from 8:30 a.m. to 12:30 p.m., Monday through Thursday. Other times can be arranged by appointment only. Bring a copy of your separation papers (DD-214) for application for VA programs and for filing at our office.