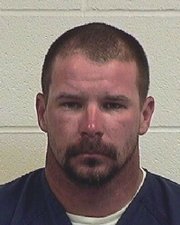 At a glance
• James Lee, 31, of Craig, charged with five felonies in alleged connection to attack on elderly couple
• Arraignment is scheduled for today in Moffat County Court
• Lee remains in custody at Moffat County Jail
• Victims: We hope Lee isn't allowed to leave jail
The 14th Judicial District Attorney's Office filed formal charges last week against a 31-year-old Craig man accused of attacking an elderly couple in their home.
James Lee is charged in Moffat County Court with first-degree assault on an at-risk victim, a Class 2 felony; two counts of second-degree assault on an at-risk victim, a Class 3 felony; first-degree burglary, a Class 3 felony; and second-degree burglary, a Class 3 felony.
He is scheduled for an arraignment hearing today in County Court. Lee is being represented by a public defender, according to the court.
The charges stem from an incident reported at about 2 a.m. Aug. 30 at the home of Howard and Sharon Salman, in the 400 block of West Sixth Street in Craig.
According to police reports, Lee went to the home and assaulted the couple. Sharon Salman told police she woke up late to get a drink and heard Lee ringing the doorbell.
She opened a front window and asked Lee what he wanted, and he reportedly cursed at her and said she was in his house. He then demanded to be let inside, according to police.
The woman called police. Her husband, Howard, came to the window to see what was happening.
Lee allegedly punched Howard Salman in the face through the window screen, tore the rest of the screen out of the window and began beating Howard Salman in the face and body, as Lee tried to pull him outside, police reported.
Sharon Salman went to her bedroom to get a walking stick to defend her husband, but Lee took the stick away and used it to continue beating Howard Salman, police reported.
Four police officers responded to the scene. Lee reportedly told police that a local real estate agent invited him to the home for a party, and then pointed to a "for sale" sign in the home's front yard with the agent's picture on it.
Howard Salman was taken to The Memorial Hospital for treatment of his injuries.
Lee was arrested and taken to the Moffat County Jail, where he remained in custody as of Monday afternoon.
He is being held on a $50,000 bond. Charging documents allege Lee "with intent to cause serious bodily injury to another person, unlawfully and feloniously caused serious bodily injury" to Howard Salman "by means of a deadly weapon."
It also lists Howard Salman as an "at-risk adult."
According to court records, Lee has no previous convictions in Moffat County.
However, that does little to assure the Salmans.
On Monday, the couple said they would appear at Tuesday's arraignment and would address the court, if allowed.
They also said they hope bond isn't lowered for Lee, who the couple said attacked them in the middle of the night for no reason.
"I just want him kept in jail," said Howard Salman, who suffered bruises on his head and body, and required 6 to 8 stitches.
"I think we should have justice for this," said Sharon Salman, whose injuries required 7 or 8 stitches. "It was a totally unprovoked attack. I mean, my God, can we not go to sleep at night and feel safe anymore?
"I'm not worried about winning the case. : But there's no point for him being out. : We're fearful for our life and anyone else's who crosses him. And actually, we didn't cross him. He came to us. He was a total stranger to us."