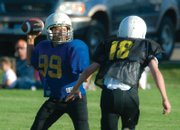 If Brian Ludgate's Chargers defense keeps performing the way it did Tuesday, the wins will come, he said.
The Chargers of the Craig Parks and Recreation Doak Walker Football fifth- and sixth-grade league eventually fell to the Steelers, 21-0, but for three quarters the hits kept coming.
For most of the game, the Steelers offense was unable to move the ball against a swarm of blue jerseys.
"Our defense was just awesome," he said. "They shut out the Steelers for three quarters, and they wouldn't let them get any big gains."
It took just one play to change the game, Ludgate said.
With the Steelers at fourth and long, deep into Chargers territory, quarterback Ed Guevara was in the process of being brought down, when he flipped the ball to one of his teammates.
Dylan Kincade caught the ball before Guevara could be brought down, and rumbled toward to the end zone.
"Our defense was on the field too long," Ludgate said. "After that play, they just lost some of their momentum, but overall I thought they were really good."
Ludgate had to make adjustments to his roster because of injuries.
"We had to swap out our starting running backs and quarterback," he said. "We've only had two practices with our backup quarterback, including right before this game."
Making sure his players are ready for injuries will be a priority for Ludgate.
"We definitely want to work on our depth as the season goes on," he said. "In three games, we've lost six starters."
After the Chargers lost their starting quarterback on the opening drive Tuesday, Blake Ludgate moved from running back to quarterback.
Blake, 11, eventually settled in under center.
"I feel like I played pretty good," he said. "I like playing quarterback because you get the ball on every play."
Blake was able to pick up yards with his legs in addition to his arm, including 15 yards on a fake.
"I pretended to hand the ball off, and then I ran to the left," he said. "It felt awesome - there were quite a few guys around me."
Despite the injuries to his teammates, Blake said he still has high hopes for the Chargers season.
"We want to win third place," he said. "We'll have to win the rest of our games, and we have to work hard to get there and keep our heads up to get there."